I'm up early, before the sun, hoping that the coffee grinder doesn't wake the kids as I prepare a Bialetti full of fragrant Ethiopian Sidamo. The smell of the beans, recently roasted at Cafès Ros, fills the kitchen.
I've had my caffeine fix and I park my motorbike near Nova Icària beach. The sun is over the horizon now and it glitters off the sea, throwing a long shadow behind me and making me squint. I put my headphones on and start to run. Along to the Forum, turn around, down to Barceloneta and the W hotel, then back to where I started. The beach is coming to life as the temperature rises, and I people-watch for a while before heading home.
A detour; I pick up fresh bread and some butter croissants, plus some chocolate croissants for the kids, at the Baluard bakery in Praktik Bakery Hotel. By the time I get home the family are all waking up and there's half an hour of happy chaos. I shower, and we go out.
I'm not going to train Brazilian Jiu Jitsu today. Instead, I'm hailing a taxi and piling in with the kids as we go to CosmoCaixa science museum. I don't know who enjoys it more, me or them, but the plasma balls, experiments and flooded forest never fail to entertain us.
The next taxi we hail doesn't take us home but drops us off for lunch instead. I've phoned ahead so we've got a table at El Mirador del Carmelo. I love fine dining and Michelin-starred restaurants, but I also love places like this: hidden family favourites that attract the whole neighbourhood with rib-sticking menus del día. El Mirador is an Andalucian oasis of traditional tapas, and soon we're all devouring steamed clams, spicy tripe, fried fish and battered calamari.
We've finished playing in the park, after hanging upside down on the rings, going too fast on the merry-go-round. I almost, but not quite, regret the extra plate of snails I ate. To settle down, we all walk up the hill to the old Civil War anti-aircraft bunkers, el Turó de la Rovira in Parc del Guinardó. It's developed as a tourist site now, so we don't see people herding goats among the crumbling ruins like we did when I first came here in 1998, but the view's the same: an unbeatable 360° panorama that goes from horizon to horizon.
My son and daughter are both getting tired so I take turns carrying them on my shoulders as head downhill towards the Eixample. Tonight, they're sleeping at their grandparents' house;  I drop them off there and head into the city centre by Metro. I call in at Estanc Duaso and wander around the walk-in humidor before choosing a couple of cigars, then head down to Carrer Tallers just off the Ramblas. An hour passes quickly as I browse through the new arrivals in the vinyl section of Revolver Records and I buy a couple of recent releases that catch my attention.
I meet my wife outside and we go for a stroll through the Barri Gòtic. The heat of the day is fading but it's still warm as we wander through the streets, looking into shops and stopping for an occasional glass of wine wherever takes our fancy. It's nice to have a couple of hours just for us, with no plan or fixed schedule, spent soaking up the atmosphere and being tourists in our own city.
We strike lucky. On a whim, I've phoned Manairó and there's an early table available. A quick trip later and we're sitting down, being welcomed by chef Jordi Herrero and deciding, of course, to have the tasting menu. I don't even ask: I just trust – I just know – that it will be good. It is: dish after dish of punch-packing fine dining, refined but powerful, that's matched with superb wines.
After all the food we need to walk it off. We pass la Sagrada Família (which I still, even after all these years, can't decide if I like or not) and go to the "inner-city beach bar" Xiringuito Aigua. There, beside the shallow lake of the Príncep de Girona gardens, the atmosphere is relaxed and convivial. There's good music playing and we miraculously get a seat without queuing. If I wasn't so full I'd eat some of their excellent snacks, but tonight I settle for a decent single malt whisky … with a single ice-cube. I imagine with a smile the howls of indignation such a heretical act would draw from my whisky-worshipping friends.
I light my cigar, an H. Upman Edición Limitada 2012 robusto. It's one of my absolute favourites but I make sure that the smoke drifts away from my wife. We chat until the bar closes, then go home. It's been a perfect day.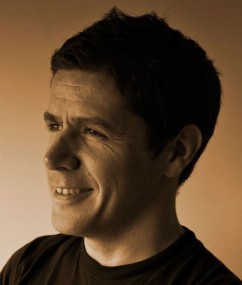 Steve Tallantyre made an impulsive decision to follow his Catalan girlfriend to Barcelona in the late '90s, saying "let's see how it goes." It's still going. He could have written a score of completely different 'perfect days', which is why living in Barcelona remains compelling. Steve is a freelance copywriter and journalist. The worst-paid but most fun part of his job is reviewing restaurants, and he posts some of his experiences on his blog Food Barcelona. You can follow him on Twitter @foodbarcelona.
If you'd like to write your 'Perfect Day in Barcelona' then please get in touch via the email address at the bottom of this website. I'd love to hear from you. The more we have the better!