Barcelona will forever be, in my eyes, one of the most beautiful and enchanting cities in the world. Its vibrant atmosphere, laid back approach to life, glorious Mediterranean weather and unique charm doesn't quite compare to the gloomy and overpriced London (the city where I was born and bred). Without a doubt my perfect day in Barcelona would take place mid-May – the weather is warm, but not unbearably hot, and tourists are beginning to flock in left, right and centre, giving the Catalan capital that vibrant buzz that I so adore. Not to mention, May is the month of my birthday and I'm sure all Taurus' and Gemini's would agree with me in saying that May is undeniably the best month of the year.
Whilst students are notorious for being lazy, some may find it ironic that I enjoy nothing more than an early rise and a productive day. Consequently, I would begin my perfect day in Barcelona with a 7am wake up, followed by a morning run along the golden sounds of the nearby Barceloneta beach. Not only is it a great workout and an opportunity to gather my thoughts for the day but I get to enjoy the city in its rare tranquil state.
I would most likely return from my run to find my flatmates slowly making their way out of bed and hopefully, in the mood for a bite to eat. You won't find a bigger brunch fan than yours truly so luckily I find myself in the right city – a place swarming with quirky brunch eateries. Amongst many, a current favourite is the super healthy yet scrumptious Flax & Kale, where I enjoy nothing more than one of their delicious pastries followed by their chia flax bagel accompanied by one of their weird yet wonderful juice concoctions – they're too tempting not to!
After my much-needed energy boost, it would be rude not to make a b-line to Passeig de Gràcia, the mother of all shopping avenues and not to be dramatic, the answer to my prayers. This luxury and exclusive strip of shops is my go to when I fancy a spot of retail therapy, and as I'm sure all other Barcelona shopaholics would agree with me, it never fails to satisfy my shopping desires. What's more, after a life enduring the extortionate prices of Oxford Street, the high street stores on the lower section are all relatively cheap meaning more clothes and shoes – music to my ears!
After a morning of browsing the unaffordable and buying up the contents of Brandy Melville, my pals and I would make our way over to the chic and sophisticated Yhi Wellness Spa for a quick, guilt free pamper session. There's nothing quite like a visit to a sumptuous spa where you're able to escape the ordinary and seek refuge from the hustle and bustle of the city, especially as this place is the crème de la crème of cosmopolitan luxury. Plus, on my last visit they treated me like total royalty and who could say no to being pampered like a princess? Not I!
Being the foodie that I am, naturally, my next stop would be La Boqueria on the iconic La Rambla to pick up a selection of yummy cheeses, meats, pastries and naughty treats for a picnic in Parc de la Ciutadella. La Boqueria hardly needs an introduction with it being a close call as Barcelona's number one hotspot and with its impressive array of fresh fruit and vegetables, tapas, local delicacies and gourmet sweets. The freshly squeezed fruit juices here are simply to die for and perfect for sipping as I navigate my way around the magnificent maze of stalls. Plus, this place provides several photo opportunities; perfect for an avid Instagrammer like myself (my obsession with it is unhealthy).
After battling my way through the crowds of people along La Rambla, I would stroll over to the stunning, the majestic, Parc de la Ciutadella. Possibly one of the most beautiful spots in Barcelona, there's nothing quite like a stroll along its sandy tracks and having a lie down on the grass as the sun beats down. However, a trip to Parc de la Ciutadella is incomplete without a go on the rowing boats which never fails to provide endless fun – who doesn't love a good ol' splash around eh!
Around this point, I would most likely fancy a siesta (I've clearly embraced the Spanish lifestyle) and there's no better place to do this than on my shaded terrace in my deck chair. After some much-needed R&R, I would head to Barceloneta Beach for an hour or so of yoga. If you haven't tried yoga on the beach, you really are missing out. Thanks to its serene and tranquil setting, it's the perfect place to truly relax, something that I often find hard to do living in the centre of Barcelona, a city which is renowned for being one that never sleeps.
Generally speaking, I'm quite a girly girl, one that enjoys glamming up for a night out on the town. So after many hours of pampering and beautifying, I would head to my favourite restaurant in the city, La Gavina. Located beneath Palau de Mar's characteristic arches, it boasts the best of fine dining in Barcelona with its delicious menu of Mediterranean cuisine consisting of the freshest seafood that the city has to offer. What's more, just a stone's throw away is 1881 Per Sagardi, my go to rooftop bar on a sunny afternoon or a warm spring evening. As a lover of views, this cocktail bar has an unbelievable view of Port Vell and its glistening waters so is an absolute must for my perfect day in Barcelona.
As most of my friends know, I find it hard to say no to a night out- guilty as charged. So after a couple of drinks at the rooftop bar, I would make my way over to Plaça Reial where you will find, what I would classify as the best club in the city, my beloved Jamboree. Now if this really could be a perfect day, there wouldn't be one of their unbelievably long queues extending onto La Rambla – unlikely though! After partying the night away into the early hours of the morning, I think it would be time to call it a day – and certainly a busy one!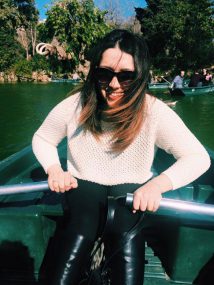 Born and raised just outside of London, Sara Siddeeq is a Leeds University student currently living in Barcelona and working as a writer for the Apartment Barcelona, a leading apartment rental company based in the Catalan capital. Primarily writing for their blog, she gives visitors insider tips on where to eat and the best places to visit in the city.
If you'd like to write your 'Perfect Day in Barcelona' then please get in touch via the email address at the bottom of this website. I'd love to hear from you. The more we have the better!