There's nothing quite like reading a memoir that details a place you are living, but not the time. Even more so I think, if you are a foreigner in that place. A place that you now know well, but that you didn't grow up in. It opens up a world you know, but from a very different perspective and time. And this memoir from Catalan-born Isidra Mencos is just that. It is an absolute joy!
"A lush memoir and richly detailed exploration of a pivotal time in Spain." — Kirkus Reviews

"Promenade of Desire is many things at once: a page-turning coming-of-age tale, a gutsy examination of family, a vivid portrait of a vanished time and a place, and a profound meditation on the nature of desire. Mencos is a sure-handed, open-hearted storyteller whose yearnings reflect our own." — Aaron Shulman, author of The Age of Disenchantments: The Epic Story of Spain's Most Notorious Literary Family and the Long Shadow of the Spanish Civil War.

"Promenade of Desire sets the author's sexual coming-of-age story against Spain's sexual and political awakening in a unique and intriguing pairing." — Julia Scheeres, NY Times bestselling author of Jesus Land
An Excerpt from Promenade of Desire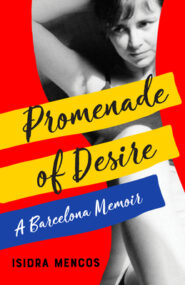 I had spent my childhood and teen years in the upper side of the city, my home in Avenida del Tibidabo up on a hill, my school in Sarriá, a solid middle-class neighborhood at the foot of another hill. Even my incursion into the hippie life through my friends at La Torre had centered on the abandoned house where they squatted on a street adjacent to Avenida del Tibidabo.
Now I hardly left the lower side of the city, from Plaza Cataluña down to the sea. The long promenade of Las Ramblas and the neighborhoods to its right and left became my home at heart.
Back then, Barcelona wasn't packed with tourists. It was ours. Walking up and down Las Ramblas, you ran into the odd guy selling American cigarettes by the unit, young couples strolling hand in hand, old men with felt hats or tweed caps and a stub between their lips sitting on the chairs lining both sides of the promenade, families with squealing kids delighted to buy their first pet at the birds stands, matrons buying carnations for Sunday lunch at the flower stands, long-haired guys offering brown bars of hashish while mumbling "Chocolate, direct from Morocco, best you've ever tried"; young people meeting at the Canaletas fountain right at the top of the Ramblas, whose water, according to legend, had the mysterious ability to bring you back to the city once you drank it. On each side of Las Ramblas, restaurants from long ago, vintage businesses with art nouveau signs proving their storied pedigree, and venerable buildings like the Liceo, the opera house, gave it character. Dime stores with plastic souvenirs in rows of identical cheesiness, fast food restaurants, and innumerable living statues hadn't yet transformed the promenade into a cheap circus.
We liked to sit on the terrace at Café de la Opera in the afternoons to drink coffee and cognac, time passing by as we watched the lovebirds strolling down to the sea with eyes only for each other; we also walked, lost in conversation, from the top to the bottom of the promenade. In a photo from that time taken right by the statue of Cristóbal Colón, Marea is dressed in tweed pants and manly spectator shoes, smoking a cigarette, while I wear a light sweater with a handkerchief around my neck and my hair cut pixie-style, perhaps unconsciously trying to play the part of boyfriend to my muse.
A mandatory stop before any new adventure with Pol and Marea was the minuscule bar on the corner of San Pablo and Las Ramblas—a four-foot counter directly on the sidewalk with a wall of liquor behind it—where we gulped a shot of cazalla, moonshine that burnt your throat as it slid down. We ended a night of drinking and dancing at a cheap restaurant, all Formica and primary colors, that we renamed La Ruina, the Ruin, because it opened at five a.m. and only drunkards and bohemians frequented it at that ungodly hour. After the last few drinks at La Ruina, we crossed to the other side of Las Ramblas into La Boquería, the most beautiful open market in the city, where we sat side by side with construction workers at small counters and ate hearty stews for breakfast before stumbling to the nearby apartment and to bed at eight o'clock.
I rediscovered my city step by step, hour by hour. A little Romanesque church from the tenth century hiding in plain sight on Calle San Pablo, its quiet and diminutive cloister offered to us like a jewel. A hole-in-the-wall deli and bar close to Las Ramblas, packed with Serrano hams hanging from the ceiling, cramped like a row of scrumptious soldiers. Only two small round tables fit in the tiny, dark space. Plates of ham, manchego cheese, and cured olives paraded in front of us, accompanied by a robust Rioja and crusty bread. A handful of sunken tombs from Roman times in a small square to the left of Las Ramblas doubled as impromptu seats where we lingered at four a.m., reciting poetry.
Every day was laced with art and play. A game of spoof would keep us bragging and laughing while we drank pints. A Kavafis poem filled us with longing for Greek gods, long voyages by sea, and voluptuous bodies. A Concha Piquer record had us singing along with her Andalusian coplas, popular folk songs where sailors, prostitutes, gypsies, and star-crossed lovers displayed their heartbreaks and dramas with abandon and cockiness. Icons of Spanish popular culture that at home had been frowned upon as coarse—from popular flamenco dancers to matadors—became objects of my admiration, their exuberant expression modeling a way of being in the world that didn't apologize for its brashness. On the contrary, brashness was something to cultivate. As if I had taken a pair of scissors to an oppressive girdle constricting my body and shortening my breath, I expanded with a sigh of relief. Freedom!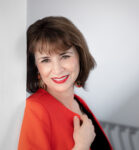 Isidra Mencos is a Barcelona native living in California since 1992 but she returns often to visit friends and family. Isidra's book Promenade of Desire—A Barcelona Memoir narrates her journey from repression to liberation in tandem with Spain's journey from dictatorship to democracy. You can read more about the book here and find Isidra on Instagram, Facebook or Twitter.