How are you all doing with your New Year's resolutions? How are those gym memberships working out for you? We're almost at the end of January and I'm sure some have already fallen by the wayside. If you're anything like me you need someone to help you out on the motivation side of things, especially when it comes to fitness. And if motivation is what's needed there's none more qualified than this hardcore Scot to give you a proverbial kick up the arse!
The hardcore Scot in question is Martin Ebner – personal trainer and sports nutrition expert. After winter seasons as a snowboard instructor in the US and seven years in Buenos Aires building Ebylife, Martin has rocked up in Barcelona with his own brand of personal training.
I met Martin in Parc de la Ciutadella, a favourite with personal trainers, and it's not hard to see why. Training outdoors is totally suited to Barcelona and I'm a big fan. Martin trains a lot of short stay visitors to Barcelona and loves to show them some of the cool outdoor places to train, whether it be the parks, the beach, or his favourite, the Olympic ring up on Montjuïc.
Martin's an extremely affable guy and really not the hard-ass I might have suggested. We talk about my goals, go through any injuries, and then start with the basics. It was a pretty gentle session as we were talking a lot. But then we got the skipping rope out and things got a little more intense. I've become a bit of a skipping evangelist in recent months but hadn't tried a rope with weighted handles. It definitely makes a difference.
I think it's really important you get on with your trainer. To a greater extent than just a teacher/student relationship. That may sound obvious to some but then others may not agree. For me that would be the same with anyone I was working one-to-one with – a Spanish teacher included. Maybe it's a personal thing. Anyway, all this waffling is leading me to say that if I didn't already have a trainer who I was 100% happy with I could definitely see myself signing up with Martin. If you don't have a trainer, and want one, then you definitely should!
And the first training session is free!
Martin is offering readers their first personal training session for free. So there really is no excuse not to give it a go. What have you got to lose!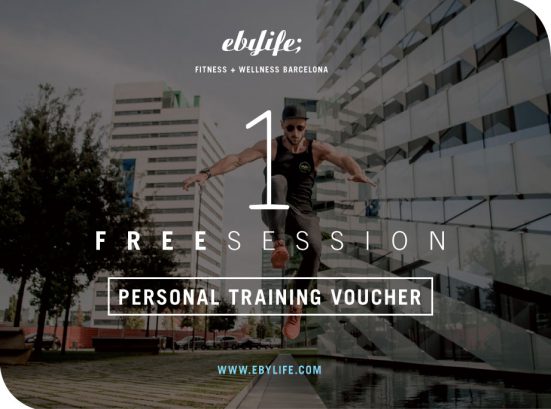 Feeling inspired?
Check out the Ebylife website to get in touch with Martin. Or follow him on Instagram, Facebook or Twitter if that's your thing. His wife is a photographer so there's some pretty cool pics about!