I believe that most of us, foreigners, will agree that we've been drawn by local lifestyle, more than anything else. 300 sunny days a year – that says it all! Even if the bathing season is pretty limited (at least for my liking, it's around 3 months only), but the mere fact of seeing people play beach volley in February makes my heart beat with joy!
Barcelona tends to make people open and explore new hobbies and passions. I have friends who have taken up Latin American dancing or handicrafts, for example. Well, my newly-found passion was interior design. When you move to a new place, most of the times you are faced with a task to set up a comfy living space for yourself, whether you decide to buy a house or just rent a room. In my case, the moment I dove into the world of home design blogs, Pinterest and furniture shops, there was no way back for me. I started a blog of my own, and one day, hopefully, will even make a living out of it.
This long introduction is to explain, why my "map" of favourite spots in Barcelona would have a lot more art galleries, homewares and antiques shops, than cocktail bars or tapa places. Whenever I get out into the centre I try to check out my favourite places and, ideally, discover something new. Although, what's the point denying it, the beach (Mar Bella!) will always be my favourite spot in Barcelona, there is a reason I chose to live in Poblenou.
My perfect day starts in El Born. There is no other place like Aires SPA, if you want to clear your head of all the stress and disconnect. What looks like ancient Roman Thermae actually used to form part of the market premises, but the setting is just spectacular.
Just around the corner, La Paradeta is a popular low-key place for seafood. The concept is simple: you choose the raw food from the display at the entrance, and they cook it for you. My favourites are grilled cuttlefish ("sepia") and razor shells ("navajas").
After lunch, I take some time to browse the small design shops in El Born. The narrow lanes of this neighbourhood are a perfect place to get lost. You will find a bunch of artisanal workshops, local designer studios, art galleries, gastronomy from all around the world, and if you are a tea person, like me, you have to check out my favourite teashop – Sans & Sans (I'm Russian, we drink almost as much tea as they do in England!). Also, if you happen to come across the flagship shop of Barcelona-based eyewear brand Etnia, pop in for a second even if you don't need glasses, because the mastermind behind the interior design of the shop is the local celebrity "interiorista" Lázaro Rosa Violán, whose signature style can be spotted in many of Barcelona's popular restaurants and hotels.
My further plans for the afternoon take me to Eixample, but not before on the way out of El Born I walk past the magnificent Palau de la Música Catalana ("the Palace of Catalan Music"), which has to be the most beautiful concert hall in the world. I have been inside for various concerts and a guided tour, and both experiences were thoroughly enjoyable.
One of the things I love about Barcelona is its diversity, there is a different vibe to each of its most popular neighbourhoods. From the bustling and artistic el Born, you step into L'Eixample, which is both elegant and extravagant, owing to the lavish Modernisme architecture. Whenever I can, I never miss a chance to walk up (or down!) Rambla Catalunya. It is much less touristy than Passeig de Gracia, which is just one block away, and has this laid-back vibe about it, with so many benches and café terraces in a beautiful architectural setting. And don't forget that it leads to a true "homewares paradise" on Avenida Diagonal, where you can find a whole bunch of excellent furniture and home décor shops.
But today I'm not going all the way up the Rambla Catalunya. My favourite shops – Maisons du Monde, A Loja do Gato Preto and a newcomer to the area – the Catalan Kave Home will have to wait for another time, while I'm heading further into L'Eixample Dreta to meet my corporate slave boyfriend for dinner. But first, I pop into Déjà Vu – an antiques shop on Calabria street, which has the most beautiful selection of vintage lamps in town! The owner of the shop Diana is a good friend of mine and a genius of lamp restoration.
The clock is ticking, and at 8 PM I arrive to La Cachapera, a Venezuelan restaurant, which started as a food-truck serving 'cachapas' – sweet pancakes made of corn flour and stuffed with cheese and (optionally) minced meat or chicken, at outdoor public events, such as Palo Alto Market. They are delicious and no wonder that the guys decided to open a brick-and-mortar venue.
Delicious food in the best company possible – a great ending to this perfectly careless day in my favourite city on the planet.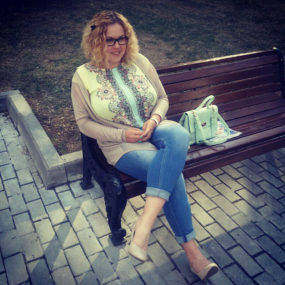 Born in Moscow (Russia), Olga has been living in Barcelona for almost 4 years, although she has been smitten with the city since 1997, when she visited it for the first time. While scheming to conquer the world with her home design blog, Colour Your Casa, and studying interior design in 3ds Max, she still holds on to her current job as a freelance translator.
If you'd like to write your 'Perfect Day in Barcelona' then please get in touch via the email address at the bottom of this website. I'd love to hear from you. The more we have the better!