My perfect day would be a spring day, between late May and early June. But we are in February, and Barcelona is also beautiful in winter.
Your only objective for a day of leisure in Barcelona is to abandon yourself to the pleasures that the city has to offer.
First, as a good foodie, I need to think about where to get the best breakfast. A relaxed place where I can read the newspaper and eat the best croissant in town. Hofmann La Seca (Carrer dels Flassaders, 40) in the Born district is definitely my choice. In addition to a latte I order a croissant filled with raspberry or maybe mascarpone, it is difficult to choose, I will order both. Reading newspapers or a good book while time goes by without being noticed is a basic principle of pleasure.
In 1992, with the celebration of the Olympics, urbanism reformulated public spaces along the metropolitan coast. Today we see how these public spaces are used and lived-in to realise the success of the project. There are even charming corners from other times, that allow us to remember a time when the city was still a city with authentic sorrows and joys, more authentic and less facade.
At noon I go to eat at a very traditional place in Barceloneta, Can Maño (Carrer del Baluard, 12), prawns and a squid accompanied by a salad. Here you are surrounded by local people, something that is already very difficult in Barcelona, but not impossible!
After lunch I walk slowly along the shore to Poblenou, watching the sea as I go. I love this neighbourhood! It has a mix of industrial architecture from the late 19th century, vacant lots, and emblematic buildings from every decade over the last two centuries.
Here and there, labels from the 50s, 60s, 70s, craft workshops, the lettering is another of my passions. A fabulous walk is to get lost in any of its streets, and the reward for the foodie is in Rambla del Poblenou, the road that ends in the sea and is the heart of the neighbourhood, where there is one of the best horchaterias in Barcelona, El Tío Che (Rambla del Poblenou, 44-46).
I sit on a public bench on the Rambla to enjoy the delight that is horchata, a drink that only exists in Spain. I watch people pass along the Rambla, the social heart of the neighbourhood.
The perfect way to finish a day like this is to go to see an exhibition at MACBA, the Museum of Contemporary Art in the Raval, with it's geometric building by American architect Richard Meier.
In the evening I would go to a unique space with beautiful views, the terrace of 1881 per Sagardi at Port Vell would be perfect.
The truth is that there are many possibilities for a perfect day in Barcelona, the difficulty is deciding which one to choose!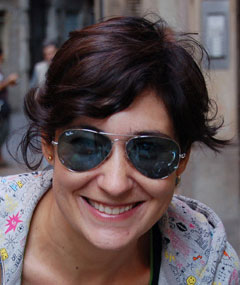 Nuria was born in the North of Spain but has been living in Barcelona for the last 30 years, mainly in Old Town and the Gothic Quarter, where every corner brings a vital memory to her. After an extensive career as an artist in the field of contemporary art, as a creative in communication, and manager of cultural projects, she founded foodloverscompany.com. She dedicates her time to sharing her knowledge about Spanish gastronomy and her city, Barcelona. In a sense, it is the same approach and motivation as with her work as an artist because it allows her to meet the world of other people every day.
If you'd like to write your 'Perfect Day in Barcelona' then please get in touch via the email address at the bottom of this website. I'd love to hear from you. The more we have the better!