My perfect day in Barcelona would definitely start with an Iberian ham sandwich, no tomato please, I might be the only Catalan that doesn't like pà amb tomàquet – no one is perfect.
Food is a big part of a perfect day, and I would start with Iberian ham from Enrique Tomás on Carrer de Pelai, there's nothing like good quality Iberian ham.
I would walk down las Ramblas in the morning after breakfast at around 10am, any later will be a battle between tourists and locals. It is a pity that the city centre has become a forbidden place for locals since you know how crowded it would be so you don't want to fight every step you make. Although this changes with the season, I certainly hope that Barcelona tourism is sustainable and tourism in the future combines the local needs with tourism growth.
Going down las Ramblas you will come to La Boqueria market, a local market made touristy because of its location. Seeing tropical fruits, fresh fish, and to smell the early tapas at Pinotxo make me happy. You may even see a famous chef looking for fresh goodies early in the morning in the market.
Local markets are a big part of Barcelona's essence; although la Boqueria might have lost part of the local vibe it is still the market to go to when you're searching for something unusual. Locals go there to find products from other countries or very specific things that cannot be found in their neighbourhood market.
I would walk to the end of las Ramblas and continue to the Maremagnum shopping centre. There are benches all around and you can sit down on and look at the harbour. I have always liked cities that are open to the sea, smelling the sea breeze makes me feel at home everywhere I go.
Barri Gòtic is my favourite part of town, but there are lesser-known places at the end of las Ramblas, Carrer Ample is one of these unknown gems. Part of Barcelona's fortress is still visible from the square, stone streets and palaces that must have been incredible at the time.
Lunch time, we are in Barcelona, a city open to the sea, we need to eat some fish, and I always find an excuse to go and have a lobster rice at El Nou Ramonet Restaurant (c/ Carbonell, 5). If you want to enjoy a tasty arroz a la marinera this is your place. Very tasty but you need to come hungry. In Barcelona most of the rice dishes such as paella and soupy rice are for a minimum of two people and this restaurant is no exception. I think this is the beauty of agreeing on what rice to choose because you need to share.
After an incredible lunch, we need to walk a bit to Barceloneta metro, and I would go to Sagrada Família, my neighbourhood. Barcelona is a city that invites you to be on the street, sitting down on street terraces, eating ice cream or just walking around.
Sagrada Família is an incredible building, I see it every morning and I never get tired of looking at it. I can imagine how Gaudí 200 years ago could not foresee how famous his building would be. From Avinguda de Gaudí, you can see one of the façades and the full height of the Sagrada Família. My favourite terrace to have a black iced tea with milk is without doubt Copa Café, probably the worst waiters in history, but the tea is worth it.
Hospital de Sant Pau is another beauty, right on top of the avenue. You can visit the hospital and there are guided tours of the inside, totally recommended. It is the most beautiful medical centre I have seen, a modernist building by Domènech i Montaner.
I always try to be a tourist in my own city; I believe that even though we have busy lives you need to know your city. Sometimes I feel foreigners know more about what to do than locals, but weekends are there to explore what we have around.
At dinnertime I would go to a typical place in the area, La Piazzenza (Av. de Gaudí, 27). This is a pizza restaurant that has been in the neighbourhood for ages. They have a big terrace in Avinguda de Gaudí and their pizzas have a thin dough just how I like it. My favourite is the one with two eggs and bacon – simple but tasty.
After a long day going around the city, going to bed early is a must to start the next day with energy. Barcelona has so much to explore and as locals we need to be the first ambassadors.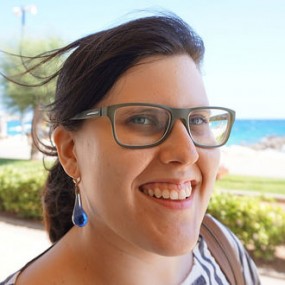 Meritxell is a tourism professional from Barcelona, she shares what it's like to live in Barcelona and Catalonia on her blog tourismwithme. With a local point of view she explores the territory around gastronomy, monuments and things to do. You can also find her on Twitter, Instagram and Facebook.
If you'd like to write your 'Perfect Day in Barcelona' then please get in touch via the email address at the bottom of this website. I'd love to hear from you. The more we have the better!