Being born and raised in Barcelona has given me the chance to enjoy this wonderful city in many ways. Now that I live abroad, I still regularly come back to Barcelona, to see my family and friends, to enjoy Barcelona's culinary and cultural hotspots, and of course, the nice weather and the sun! For my perfect day in Barcelona I've made a summary of my favourite places and local spots, which I always enjoy visiting.
Morning
My perfect day would begin in Horta, which is the neighbourhood where I grew up and where my family lives. At one of the terraces in Plaça Eivissa I would start my day with a café con leche (a cup of coffee with milk) and some sweet pastry. At Plaça Eivissa there's also a churrería. Pick a handful of churros and eat them while you discover Horta! Carrer del Tajo is the main shopping street with a local market you cannot miss. A bit further you can discover Carrer d'Aiguafreda, where in the past century clothes from Barcelona's upper-class members were cleaned.
Walking up the hill in Carrer d'Horta you find the beautiful Can Mariner, an old masia now converted into a library, and the clock tower of Horta, from when it used to be a village. Up in the charming Carrer de Campoamor there's a wide array of lovely villas with pretty gardens. Another masia that we come across is Can Cortada, now converted into a top class restaurant.
Next stop is the Parc del Laberint d'Horta, the place I enjoyed the most as a child. This romantic garden, built in 1792, is a perfect get away from the city. And like its name says, in this park there's a wonderful labyrinth, the same one you see in the film 'Perfume: The Story Of A Murderer'!
Afternoon
In the afternoon I'd visit the mountain of Montjuïc, another one of my favourite green spots in the city. I like to walk from Plaça d'Espanya towards Palau Nacional, where MNAC (Museu Nacional d'Art de Catalunya) is located. Once I've reached the top I like to sit down and enjoy the views, which never get old.
I would afterwards take a walk following one of the many options that this mountain offers: from a castle at the top, a hidden fountain at the Font de la Guatlla or the remains of the Olympic Games in 1992 such as the Torre Calatrava.
If you're hungry you can go for a bite in Poble Sec, next to Montjuïc, where a wide array of bars and restaurants are waiting for you. I especially like Carrer de Blai, that has many affordable pintxo bars. For a sandwich I like Bread & Circuses (c/ Blasco de Garay, 59), Quimet y Quimet (c/ Poeta Cabanyes, 25) for Spanish tapas and Spice Café (c/ Margarit, 13) for some coffee and a slice of cake.
Evening
In the evening I would head out towards the beach, which is one of the many things that make Barcelona so special. Starting at Maremagnum I would walk along Port Vell towards La Barceloneta, checking out boats and enjoying the sea breeze.
In La Barceloneta, one of the most popular beaches in Barcelona, I would have a drink in one of its many chiringuitos, like La Deliciosa, with my feet in the sand and my eyes closed listening to the waves come and go.
Night
I would finish my day visiting the oldest district of Barcelona, Ciutat Vella. Seeing the Plaça Reial, the Cathedral or the Plaça del Rei all lighted up is always a delight. There are many options for dining in the area. But if you're looking for some of the city's classics, then you have to try 7 Portes (Passeig Isabel II, 14), Los Caracoles (c/ Escudellers, 14) or Els 4 Gats (c/ Montsió, 3). A fine way to finish my day is by having a drink at Ocaña (Plaça Reial, 13-15) overlooking the buzzing activity at the Plaça Reial.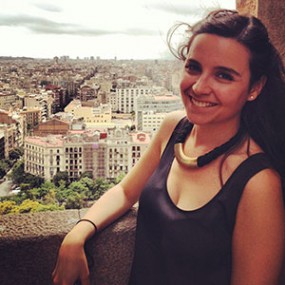 Marta Rubio is a born and raised Barcelonesa currently living in the Netherlands. Marta runs the Dutch website Barcelona Met Marta where she gives advice to those visiting Barcelona. Besides that, she also started gathering all her tips about The Netherlands for Holandia.es, your source of information when you want to discover the real Holland.
If you'd like to write your 'Perfect Day in Barcelona' then please get in touch via the email address at the bottom of this website. I'd love to hear from you. The more we have the better!