My perfect day would be a sunny Saturday in early May, when the weather is fine and you notice for the first time the smell of summer in the air.
I get up early and drive my motorbike to the Carretera de les Aigües for a morning jog. This is a beautiful path in the Parc de Collserola where you have an amazing view over the city and at the same time can enjoy the greenery and fresh air. Jogging while watching the sun rise and with the awakening city at your feet is priceless.
After a refreshing shower it's time for breakfast. I go for a strong fork-breakfast because we have a long day ahead. Can Vilaro is a family run restaurant in the Sant Antoni area where I love to go. Cisco, the owner, is always in a cheering mood. He advises me on what to have. I always plan to try something new, but most of the time end up ordering the same as always: butifarra amb mongetes and some tomato bread on the side. It's delicious and sets me up for the rest of the day.
After breakfast I go for a long walk. I turn into the Carrer Parlament where people are having their vermouth and tapas. I then cross Avinguda Parallel and walk into Carrer de Blai in the Poble Sec neighborhood. I love both streets. They have a similar feel to them. People are busy talking and laughing over their vermouth, it's a beautiful sight and it makes me happy just to see them having a good time. I feel like sitting down and having a drink too, but first I have some more walking to do.
Since I'm close to Montjuïc, I walk up to the MNAC, my favourite museum in the city. It's so enormous that every time I go there I discover something new. And the stunning views over the city are always a welcome plus. A few hours later I walk further up Monjuïc hill until I reach the castle on top. Now I've definitely deserved a drink. Few people know that behind the castle there is an amazing bar which has the most astonishing views over the sea and the harbour. It's called La Caseta del Migdia and it's a great stop for a beer, a snack, for chilling in the sun and enjoying views.
Time to go home now and prepare myself to hit town again. One of the areas I love is the Raval neighborhood. I like the atmosphere and there are plenty of nice bars.
I'll have a drink at Ambar, I like this place, don't know if it's out of nostalgia or just because it's a great bar. After that I'll have dinner at Bar Cañete, in my opinion the best tapas bar in Barcelona. It's not cheap, so I only go there on special occasions, but it's worth every cent. I'll order the lobster croquettes, tuna tartare with mascarpone, baby squid with beans and I'll have the camarero advise me on some other seasonal dish. Cañete has an extensive wine list to choose from, I'll probably go for a red wine from Priorat or Montsant, my favourite wine regions in Catalonia. After this delicious meal, I head up to the roof top terrace of nearby Barceló Raval to take in the 360° view of Barcelona by night.
Now it's time to go home. I live in the Eixample Esquerra area. If I still have some energy left, I'll return home on foot and walk along the Passeig de Gràcia. At night it's quiet and the many beautiful modernist buildings are nicely illuminated. It's on moments like these that I realize that I live in one of the most beautiful cities in the world.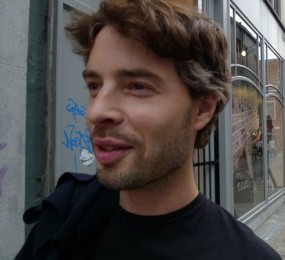 Hi my name is Mark. I'm Belgian and I've been living in Barcelona since 2006. I'm a tour guide and offer walking and biking tours in Barcelona under the name of Meet My Barcelona. I like to show people the real Barcelona. We avoid the touristy places and concentrate instead on what only the locals know and love.
If you'd like to write your 'Perfect Day in Barcelona' then please get in touch via the email address at the bottom of this website. I'd love to hear from you. The more we have the better!