Barcelona in a word for me would be: lifestyle. The city's history, cosmopolitan approach, fantastic weather and terrific food are a great combination that would make any of your days perfect! So, in that sense I compiled the best elements of different days into a single one, and I must say I am amazed about the result!
Early morning yoga and my favourite energy boost
A few years ago, I started attending yoga classes at Sincronia in Gràcia (c/ Pere Serafí, 7), and because of some logistical aspects of my life I couldn't continue, so then one of the owners, offered to send one of their teachers to my place. And now I am an avid yogi. At least twice a week at 6.30am Ferran knocks at the door of my apartment and we start saluting the sun.
But a good day, needs a healthy boost, and I love having my breakfast at Lo&Lo Juicing (c/ Breton de los Herreros, 4), it is always nice to talk to Lea or Alberto about life and day-to-day issues. I start checking some emails and making some phone calls so things get settled with work. While I am writing these lines, I am planning to become a "mobile-entrepreneur".
Wanderlusting the streets of Gràcia
After finishing breakfast, I take the chance to walk around one of my favourite areas in Barcelona, Barri de Gràcia, for the girly stuff. I love shopping at the district boutique shops such as Boo (c/ Bonavista, 2) or D'Lirio (c/ Verdi, 11), and in case I need to do some work there is an array of eclectic cafes at the plaças (squares), so I keep everything under control – except my credit card!
Doing some work among the hipsters
As a foodie business entrepreneur working cannot be separated from good food, and I would be surprised if walking around Barcelona I wouldn't be able to find a cafe where half of the clients are sitting with their laptops open while drinking a beer or coffee. So, I get there, I order tea and a bikini, one of my all-time favourite sandwiches, and I am all hands into my culinary ventures that I operate in Barcelona.
I cannot point out a single place for this activity as there are many cafes, but here there is a good resource about this written by Coffee & Brunch.
Escaping the tourist crowds at Barri Gòtic
I use to avoid the Gothic Quarter due to the large influx of tourists and selfie sticks that I risk crashing into and the waitress waiving their 15 euros paella and sangria menus in my face; however recently I was working on a new food tour, and got to know some amazing places, often forgotten by the capitalist approach taken in areas where anything is done for profit from mass tourism. Barri Gòtic is full of history, anecdotes and streets that are lost to many people, including locals, and I love getting lost in them, there is always something new to find.
Fer Vermut – my favourite ritual of the day
To "do the vermouth" is the literal translation of "Fer Vermut", and it's the way to kickstart a lazy Sunday of eating and drinking, or an evening chit-chat with your friends, always paired by some good olives, anchovies or chips. It is a way to open the appetite and I love the laughs vermouth produces. Check this guide for great vermouth bars in Barcelona.
Having a bite with a friend
A perfect day in Barcelona cannot happen without sharing tapas with a group of friends. As my Chilean husband would say: after a couple of vermuts you are already walking on top of the ball, so why not continue the adventure into a tapas bar. I really like the atmosphere in Sant Antoni, Poble Sec or Barceloneta districts. All three are genuine neighbourhoods with deep roots to local culture, and food always helps you to connect deeper and deeper, to the point you already feel part of the Barcelona culture.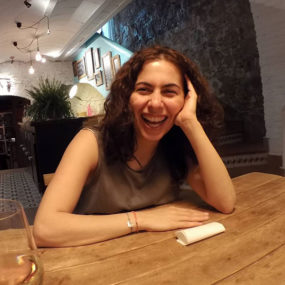 Born and raised in Moscow, Marina comes from an Armenian family where food is sacred. She did her masters in finance in Barcelona and has since been living here. She is a foodie entrepreneur. To date she has founded Barcelona Eat Local Food Tours and has partnered with Bitemojo, both culinary ventures dedicated to showcasing the best of the city through its food and traditions.
If you'd like to write your 'Perfect Day in Barcelona' then please get in touch via the email address at the bottom of this website. I'd love to hear from you. The more we have the better!