I could spend my entire life just wandering around the coloured streets of Gràcia, so if I had to choose where to spend 24h, it would definitely be there.
I'm an early bird and would start the day around 7am, walking my dog Ed in the neighbourhood. Carrer de Mozart, Carrer de Sant Pere Màrtir, Carrer de Manrique de Lara… I find it so invigorating to simply walk in the streets when everyone is still asleep. Sun is there, but quite shy and you can feel the light summer breeze.
While the city is slowly waking up, I would have a simple avocado on toast with a freshly squeezed orange juice at Nabucco Tiramisu on Plaça de la Vila. Around 9am, you can get a table outside with the temperature being just right.
Once brekkie is done, I'd take bus 22 heading to Carmel and reach Park Güell. My morning walk would continue all the way up to Mirador de Joan Sales. I like to believe it's the highest point in the park. Whether it's true or not, perception is reality some like to say. I just love gazing at what embodies mediterraneaness: cypress and palm trees, iconic landmarks and the sea.
Walking back to Vila de Gràcia, taking my time, getting lost on the way home consciously or unconsciously would take me 1 to 2 hours. "Jardí del Silenci" (Carrer de l'Encarnació, 62), is on my way home and a place I found so charming and poetic. This communal garden is just perfect to read a book or have a nice peaceful moment. Right before having lunch, I would have a massage at Casa Giorgia (Carrer de Nil Fabra, 11), just because it helps me tame my overactive personality and relaxes both body and mind.
For lunch, La Sedici (Plaça del Sol, 9), has won my heart and I go there at least 3 times a week, always ordering the same thing (this is the moment where you realize I have OCD). "3 pizzetti 3 quesos por favor Giorgio!" I would say to the owner, a passionate Italian who can tell you everything about pizzas. To be honest, I don't need to say what I want anymore, Giorgio just knows. The dough is soft and crunchy at the same time and the melted cheese is to die for. Eating pizzas, drinking a clara sitting on the floor on Plaça del Sol with my husband Arthur, life does not get any better than this. Around 2pm, the square is buzzing, musicians playing, dogs everywhere and kids running around.
I would then head back home and have a nice nap. Living in Barcelona, getting used to the Spanish traditions really got the best of me. Once fully energized and if I'd feel like it, I would then go for a dance class at Swing Cats (Carrer de Torrijos, 70). Depending on my mood, I would either go for a lesson of African dance with Nayan or Swing with Aitor. Class done, I'm exhausted and need good food and good company.
I would meet up with my friend Julia just down the street and have dinner at Las Ikas (Carrer de la Perla, 22). If I had to summarize this place with only 1 word it would be: authenticity. Again, ordering the same deliciousness makes me happy: nachos with cheese and guacamole, a plate of cold cut meat, pan con tomate and "el zumo de la casa". The whole place is lovely, but the small table on the terrace at the back is the perfect spot, calm and surrounded by plants. Once dinner is done, Julia and I would then go and meet friends at AMMA Gelato (Plaça de la Virreina, 3). I just love this place, ice creams are divine, the square is one of my ultimate favourite and my husband Arthur opened it a few weeks ago. It has become our main meeting point and we just love hanging out there. There's always something happening, a friend passing by, people dancing, music playing… At midnight, when AMMA closes, Arthur and I would cycle home, riding through the pedestrian streets of the barrio. Right below our flat, there is a tree that we've decided to call Raymond. We live on Carrer de Domènech and this is to pay tribute to the soccer coach Raymond Domenech. Far from being fans of soccer, it just adds to the attachment we have with this area. Under Raymond, there's a bench where we like to sit, talk and spend some quality time. Another Catalan tradition I completely got used to: the culture of benches. Such a simple way of enjoying life to the fullest, without feeling the need of doing anything.
I would then go to bed, fall asleep and tell myself how lucky I am to be living in the city of my dreams.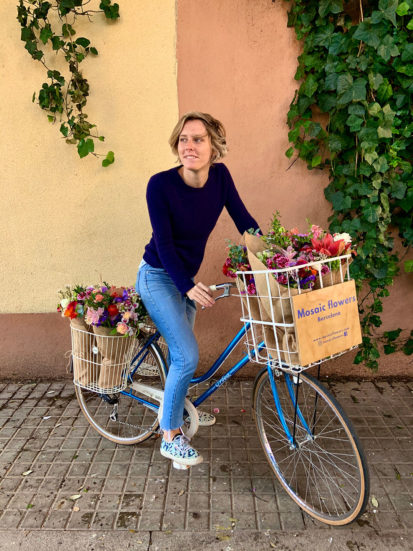 After working in marketing in Paris, London and Geneva, Margaux decided to move to Barcelona and become a florist. After a few months of learning her own style of floral arrangement, going to the market, learning from horticulturist, working in the fields… she created her online flower shop, www.mosaicflowers.com in Feb 2020. Taking inspiration from the coloured streets of Gràcia, Margaux uses her creativity to make people's heart smile. Every week, she designs 2 different bouquets, to guarantee fresh and seasonal flowers, whilst reducing waste to the minimum. Each bouquet is wrapped up in natural and sustainable hessian, comes with a hand-written note and is delivered by bicycle in the city every day.
To discover her creative universe, her Instagram account is a good way to start: www.instagram.com/mosaicflowers.
If you'd like to write your 'Perfect Day in Barcelona' then please get in touch via the email address at the bottom of this website. I'd love to hear from you. The more we have the better!