I believe that every great day starts with a run and a great cup of coffee. On my perfect day in Barcelona my first stop will be Carretera de les Aigües, a running path overlooking Barcelona, which will provide the perfect introduction and preview for the day. To get to the path, I take the FGC from Gràcia station to the Peu del Funicular stop and continue up the mountain on the funicular.
When I get out of the train car half way up Tibidabo, I decide to take the trail to the left today. An 8km flat run should be plenty since I'll be exploring on foot throughout the day as well. As I run, I look out over Barcelona and take in the city's amazing skyline and view all the way out to the Mediterranean. It's a gorgeous day, so I can clearly see the Sagrada Família, Camp Nou, and of course the W Hotel which defines where the sky meets the sea.
After my run I head back down to Gràcia for a quick shower followed by a hunt for just the right cup of coffee. There are a few perfect options in the neighborhood, but I decide to go to Animal Coffee Bar in the nearby Sant Gervasi barrio. The baristas at Animal take care in preparing every beverage using perfectly roasted Nomad Coffee beans and fresh milk. The posh interior also puts me right at ease, reminding me of every one of my favorite overpriced, hipster coffee shops in my former home of San Francisco.
From Animal I'm off to do a little window shopping on the quirkiest street in Gràcia, Carrer de Verdi. I leisurely stroll past storefronts on this quaint, tree-lined road and peak inside when I'm intrigued. I'm surrounded by shops selling jewelry, purses, scarves, and other accessories that I don't need more of, but I take my time pursuing. Once I've had my fill, I take a short break on Plaça de la Vila de Gràcia enjoying the beautiful spring weather with a refreshing agua con gas. I sit back and observe the square. There are four kids racing around on scooters and another dozen playing fútbol while their parents enjoy a beverage on the perimeter. I chuckle to myself thinking about cartoons – for whatever reason little kids speaking Spanish always makes me think of cartoon characters.
Now, no perfect day is complete without some time spent on the coast, so though it pains me to leave Gràcia for a few hours, the Mediterranean is calling. I take the metro to the Barceloneta stop and walk towards the beach. Along the way I pop into a grocery store and buy fresh bread, cheese, and salami for my picnic lunch on the beach. Once out on the boardwalk, I seek out the best piece of sand and settle in for a few hours. I let the sun warm my face while I enjoy my lunch and my book. I'm grateful that few people think to go to the beach when it's warm, not hot, and I let myself be at peace transfixed by the waves calmly approaching the sand.
Once the sun is setting and the weather starts to cool, I continue walking south towards the very tip of Barceloneta. My fiancé Tony is meeting me here for a pre-dinner drink at Eclipse, the overpriced rooftop bar at the W Hotel. We take the elevator up to the swanky bar area and place our orders: he opts for the classic gin tonic and I enjoy a glass of cava. As we sip our beverages looking out over the disappearing water and watching the city light up, we reminisce about the last year, expressing our continued disbelief that we actually live in Barcelona.
Now that it's 9pm, it's almost an appropriate time to head to dinner. Really we should wait another hour, but we have yet to fully adapt to the Spanish schedule, so 9pm will have to do. Now, if today were just a normal day, we'd head to Estel de Gràcia and enjoy a delicious dinner complete with caprese salad and chocolate coulant. However, because this day is perfect, we have a reservation at Con Gracia.
At the restaurant we are greeted, seated, and offered a glass of cava. Yes, please. Thank you. We have only one more decision to make for the day: will we choose the traditional tasting menu, which we can review before ordering or the experience tasting menu which is chef's choice. The chef always knows best, right? We decide to let the chef be our guide and are taken through course after course of excellently combined, seasonal ingredients ending with a Moroccan flower that leaves our mouths vibrating and a plate piled high with chocolate. By now it's nearing midnight and just like we haven't quite adjusted to the 10pm dinner times, the after dinner clubs don't appeal to us much, so we walk out into the crisp Barcelona air and back to our home.
A friend of mine once said, "If my eyes are happy, my heart is happy, and my stomach is happy, then I'm happy." This perfect day of mine fulfilled all of these happiness requirements and as I fall asleep I realize I am just that, happy.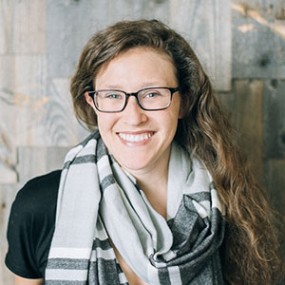 Liz Peterson is an American expat based in Barcelona who loves to experience new cities on bike and on foot. She runs a travel blog california2catalonia.com where she shares advice to help you maximize your time spent seeing the world. Other than travel, her favorite things in life are coffee, red wine, puppies and chocolate. You can follow California2Catalonia on Facebook, Twitter, and Instagram.
If you'd like to write your 'Perfect Day in Barcelona' then please get in touch via the email address at the bottom of this website. I'd love to hear from you. The more we have the better!