Yes, I love Barcelona. And yes, I have spent some pretty perfect days over there, but there is more to Catalonia than its capital city. Let me take you 60 kilometres up the coast and show you around the place I call home: Malgrat de Mar.
It's a calm Saturday morning in June. The temperature hopefully won't raise over 25 degrees and the town is not that full of tourists yet. We enjoy our breakfast, that includes pan con tomate and orange juice, in the apartment. Around 10 o'clock we make our way down to the beach where you can go kite surfing or just relax and swim. After a couple of hours we follow our way over the beach and end up having a vermouth in Vivo Platja (Av. Pins, 5). Here you basically sit on the beach and you can totally calm down with the sound of the sea in the background.
When we finish our drink, olives and chips we make our way over to Passeig Marítim and blend in with the tourists for a while. We walk all the way to Carrer de Mar where we pass by the church of Sant Nicolau. Finally we reach la Plaça de Josep Anselm Clavé where we take the elevator up the hill which takes us to el Parc del Castell.
In this park upon a hill you find the old watchtower of the town and you can look over the city. I can still enjoy the views over Malgrat de Mar, the sea and other towns nearby. I might have been there dozens of times, but it will never bore me.
Now it is somewhere between two and three in the afternoon and we start to get hungry. It's time for the most important Spanish meal: lunch. Coming from The Netherlands where lunch usually consists of a sandwich with cheese, I needed a bit of time to get used to the Spanish lunch of three courses. But, as I love food a lot, I soon started to appreciate this change. From el Parc de Castell we walk down to el Parc Francesc Macià where we find a very cosy restaurant: La Torreta (Av. De La Costa Brava, 79). Here we meet with my parents who have come over from The Netherlands and enjoy a long meal. For starters I will have escalivada, as main course I choose the coca del Maresme and I finish with a delicious flan.
After that lunch we definitely need to move a bit. So, we take our bikes and head to the ruins of Castell de Palafolls. Palafolls is only a couple of kilometres away from Malgrat de Mar and many, many years ago Malgrat belonged to the lord of that particular town. It's quite a steep road and maybe you will have to attach your bikes to some tree at some moment and do the rest by foot (I am talking from experience). At the top you will find the remains of this old castle and again you will see some great views. The way back is definitely a bit easier and it's a nice bike ride in the afternoon sun.
Around 7pm, Malgrat starts to become more full of life again and we are freshened up and heading into town. We stroll through the few shopping streets and we end up in a lovely wine bar called La Dida (Av. Bon Pastor, 41).
Here we ask for a couple of glasses of vino tinto (before I came to Spain I didn't even like red wine and now it is my favourite kind of wine) and some cheese and fuet. I love sitting on their terrace and looking at the locals and tourists passing by. We might ask for another glass of wine and just savour the moment. As you can read, a perfect day for me involves a lot of drinking and eating. I guess I am influenced by the Spanish culture.
At 10 at night we meet up with some friends around the corner in the restaurant Klein84 (Carrer de Sant Esteve, 84) where you can eat the best burgers and have some cocktails afterwards. This is possibly the beginning of a very long night which might end in one the clubs at Passeig Marítim. That is where my little love story started back in 2011 and look where I am now!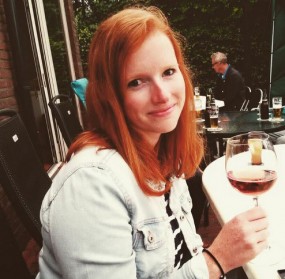 Linda is a Dutch girl who moved to Malgrat de Mar and has been living there with her Spanish boyfriend for a bit over a year now. She is studying for a masters in Tourism Management at the University of Girona and in her free time she likes to work on her blog where you can read about Spanish food, the trips she makes and more stories about her life as an expat. You can also follow her on Twitter, Instagram or Facebook.
If you'd like to write your 'Perfect Day in Barcelona' then please get in touch via the email address at the bottom of this website. I'd love to hear from you. The more we have the better!