An article from the wonderful Claire Gledhill about why it's useful to learn a bit of Catalan if you're staying in Barcelona. And it's free!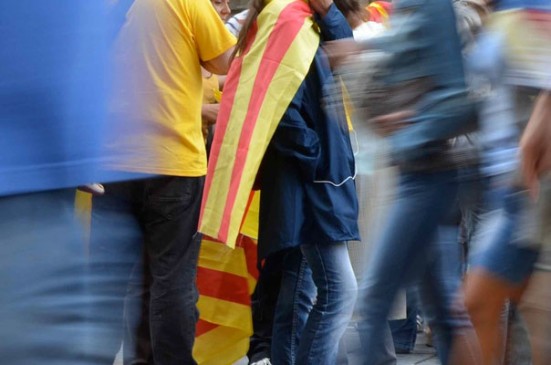 What language do they speak in Barcelona?
For anyone landing in Barcelona ready to start a few months study, experience the city or look to making a new life here, learning Catalan is probably not high on their to-do list. In fact many visitors or new arrivals may be blissfully unaware that they have indeed set foot in one of Spain's autonomous regions which has its own distinctly different language, cuisine and cultural heritage.
Where do they speak Catalan apart from Catalonia?
Catalan may be viewed as a minority language, and at least geographically it is, only being spoken in Catalonia, some regions of southern France, and dialectal versions in the Valencia region, Balearic Islands and a small section of northern Sardinia. However, with over 9 million speakers, which ranks it alongside Danish, it is certainly not a dying language yet is not recognised by the European Union. And just to be clear, Catalan is NOT a dialect of Spanish, nor a mix of Spanish and French, but an individual Romance language, although of course as any student of a Latin rooted language will know there are similarities between them all.
Now let's be clear, I am no fluent or even proficient user of Catalan, yet 100 hours of free Catalan classes (more about that later) has given me a base which I believe has opened up another side of Barcelona that I would miss out on without this knowledge.
Why should you give Catalan a go
So what does a foreigner have to gain from learning at least some of this language which they won't be able to use outside of this small corner of the Iberian Peninsula?
Firstly, as with anywhere you visit in the world and try to use the language, it will always be appreciated by the locals. Once, lost on the way to finding the path to the start of Montserrat, a shopkeeper led me almost in an embrace after I asked him for directions in his mother tongue. On day trips to Vic and other inland towns it has made me feel very welcome.
Personally my main motivation was to understand a local listings magazine, Time Out, which is only published in Catalan, but this then led to the second valuable reason – the ability to understand all the official paperwork and forms issued to you by the council, medical centre, not to mention the advertisements in the subways and flags hanging from street lamps publicising exhibitions and events.
Thirdly, for anyone with a view to staying in Barcelona, it can only be a valuable resource to have, even if, like me, you rarely use it in speech. Opening a business or having avenues to public sector work or more varied job opportunities will surely come with knowing both local native languages.
You can learn Catalan in Barcelona. For Free!
Finally, there's no excuse, as at least the basics to get you started you can learn for free, all you need to buy is the Catalan course book.  Catalan classes are run by the scarily named Consorci per a la Normalització Lingüística which can be found in the Caja Madrid building on Plaça Catalunya, just take along your passport to register. The Catalan classes are intensive, covering tenses and vocabulary way beyond what I have taught in beginner's English classes. Teaching is solely in Catalan, not just because of linguistic stubbornness and pride but also due to the range of nationalities in the class finding a common language would be difficult. However, your ear quickly assimilates to the sound and rhythm and is a huge advantage as you continue your learning. Courses Basic 1, 2 and 3 will give you an excellent grounding in Catalan in 105 hours. If you are a native English speaker you may also, like me, find Catalan pronunciation far easier than the throaty 'j's and lispy 'c's of Spanish and if you are learning Spanish at the same time some of the grammar usage will certainly compliment rather than confuse your Castillian.
I urge you to give it a go.
Claire regularly digests good views, Barcelona facts and information, great food and disco dancing. She writes the blog Moonraker Morsels about all aspects of food and eating in Barcelona.