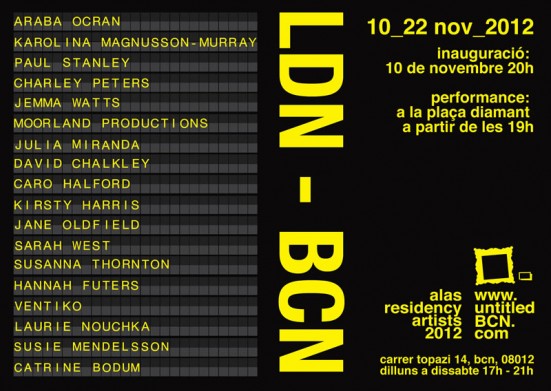 The exhibition LDN-BCN opens at the Untitled BCN gallery space in Gràcia this Saturday the 10th of November.
There will be 18 artists taking part, all of whom make up a collective formed following participation in a residency in East London in June of this year. The show will comprise painting, photography, sculpture, video, installation and performance. LDN-BCN will be the first of their international biannual group shows.
My home town of London is obviously very close to my heart. And any collaboration between my old and new love is a good thing.
From the press release…
In June 2012, 18 artists started the inaugural ALAS Residency programme in East London. None of us had ever met. We worked in disparate ways, our practices spanning film, painting, performance and drawing. We had based ourselves all over Europe, North America and South America.

Each of us had been involved in collaborations before the residency, working within studios, artist-led groups and within our various arts communities. By bringing together this diverse group, and introducing us to the wide range of practices that span London and Barcelona we have created a group that promotes collaboration within art practice.

Both London and Barcelona sit on the frontline of the recent change sweeping our world. Both cities have seen the intoxicating extremes of wealth and privilege alongside the growth in resistance and protest. International cities like these bring people and ideas together. They exist as crossover points where different cultures and ways of understanding the world meet. It is fitting that our diverse group should come together to celebrate and interrogate these possibilities.

Between us various new alliances have been forged. There are a multitude of plans for different shows and projects between us. As well as this, a collective identity has evolved. Together we are planning workshops, public interventions and even, for the more traditional amongst us, gallery exhibitions.

We are legion and we are many.
Serious stuff! If you can't get along to the opening on Saturday then it runs until the 22nd November. So you have no excuses.
LDN-BCN Artists
Check out some of the work from the 18 artists on show by visiting their websites.
LDN-BCN Exhibition Details
LDN-BCN: Alas Residency Artists 2012
10th – 22nd November 2012
Opening 10th November at 8pm
Untitled BCN Gallery
Carrer Topazi 14, Gràcia
Open Monday to Saturday, 5pm-9pm