There are many walking tours in Barcelona. But I didn't know of any that had a specific tour for children. After all, what did American actor and writer W.C. Fields say, "never work with children or animals".
Even the simplest jaunt with children can, depending on their mood, become worse than a visit to the dentist. So, it was with more than a little trepidation that I agreed to go on the Kids & Family Barcelona Tour from Runner Bean Tours.
Walking with children can often be an event in itself. Any excitement can ten minutes later be replaced by moans of, "I'm tired", or, "Dad, can you carry me!" So I was interested to see if this tour could hold their attention for the two and a half hour duration, especially as the website stated that the tour, "is suited to children from 4 to 12 years old", and my youngest is just three and a half.
But with the following description I was, dare I say it, hopeful.
Running since 2011, this is the first walking tour in Barcelona specialised for children. A fun stroll for all the family with a friendly guide through the magical background of the Gothic Quarter. Filled with activities for the young ones, stories, games and songs, it will keep your kids begging you to bring them back to Barcelona.
We met our tour guide Tati in Plaça de l'Àngel by Jaume I metro. She introduced herself to all the kids and asked their ages. We were split into two groups based on the age of the kids, they were each given a little rucksack with pencils and a workbook, and off we went.
At each stop, only a short walk apart, they got out their workbooks and did a little activity. Whether it was colouring in the Catalan flag and hearing about is gruesome myth, listening to the story of Sant Jordi, or trying to decipher the correct animal from the weathered gargoyles on the back of Barcelona cathedral, this was fundamentally a tour focussed entirely on the kids. Don't get me wrong, it was all interesting for adults too. But the focus was on the children. And this made them enjoy it all the more. It was their tour.
I don't want to give too much away, but suffice it to say the kids were thoroughly entertained. And even though the tour lasted for two and a half hours the distance covered was not that great and the kids managed fine. But do take some snacks if your kids are prone to getting a bit peckish.
We ended up at a museum of giants! These are the kind of giants that feature in nearly every Catalan fiesta and cultural event. Huge wooden-framed, papier-mâché figures taken from Catalan history or culture. Kings, queens, craftsman, and figures in traditional clothes. The kids were taken around the museum and told stories about some of the characters. They were even able to try on one of the heads, but few did, so I took the opportunity!
Although most green vegetables are looked upon with disdain by my two, this walk from Runner Bean Tours was not given the same feedback. They loved it! And at €16 per adult/child it doesn't break the bank either. Children 3 or under go free!
The tour runs on Saturdays from April 1st until October 31st and Wednesdays too for July and August. So, if you've used up all your ideas during the incredibly long summer holiday, this tour could be the answer for one of the coming weekends. Or of course, if you are only visiting. But I think this is a great tour for expats alike.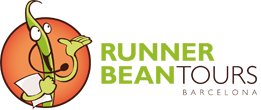 You can check out the full details on their website. They also offer private tours in Barcelona including a version of the Kids Tour we took. And don't just take my word for it. There are some great reviews there and on TripAdvisor!