Barcelona is a city of perfect days. Among all the cities I've visited, I consider it to be among the most liveable and lovable metropolises on Earth. Blessed with warm weather more than six months a year, flanked by the ocean and mountains, great nightlife and culture, dozens of parks, loads of good museums, bike lanes, citywide free wi-fi, and a broad variety of people from all over the world, each day in Barcelona is better than the last.
Which makes it hard to pick a 'Perfect Day in Barcelona,' but for the purpose of this article, I will try. In this edition of A Perfect Day in Barcelona I will try to illustrate not only Barcelona's variety—food, culture, nature and wide open spaces—but its infrastructure as well.
Barcelona's city planners prioritize pedestrians over cars. You can see this with its sidewalks that are as wide—if not wider—than the roads for vehicles, and there are lanes and parking stands for bikes everywhere. A city not so big, you can get everywhere on foot, bike, rollerblade, skateboard, or scooter, if you are so inclined. But should your feet fail you, there is Barcelona's public transport system with buses, trams, and metros which are well-run and are relatively cheap.
Barcelona is a city that is centred on life. Tired? Here's a bench to sit on. Thirsty? There are water fountains everywhere. Bored? Just go to any plaça and you will find buskers and performers so talented you wonder why they aren't on television or on stage. Libraries and parks are open to the public so that people can exercise their body as well as their minds. Dogs are welcome in many establishments, and those that don't, provide cute little leash hooks outside their doors so that man's best friend doesn't wander away.
For this edition of A Perfect Day in Barcelona, imagine that it is sometime between April and July, and I assume that you like to walk as much as I do.
So let's begin. 0600: Wake up
0630: Have breakfast with the sunrise at Barceloneta. You could bring a beach blanket, some bread, cheese, and fruits if you get hungry. If the water is warm enough you could even go for a dip.
0800: Have a coffee or tea in one of the outdoor cafés in Barceloneta.
0815: If waking up at dawn is simply not possible, you can take your time and head over to Passeig de Gràcia to breakfast at one of the many choices.
0930: Walk along Passeig de Gràcia to La Mansana de la Discòrdia—the Block of Discord—to admire the four icons of modernist architecture: Casa Batlló, Casa Lleó-Morera, Casa Mulleras, and Casa Amatller.
1015: Stroll to Plaça de Catalunya where you can just stroll around and enjoy the sights and sounds. There are buskers, fountains, sculptures, and no shortage of window-shopping opportunities.
1030: From here you could head over to the Gothic quarter. If you are so inclined you could join one of the free walking tours which will take you around what was once a Roman city, with a Jewish quarter, which was later built over by the Spanish.
1400: After the walking tour, it's time for lunch. Choose from one of the many outdoor cafes in El Born or in Plaça de Sant Jaume. The historic artist haven Els Quatre Gats is one option.
1530: After a meal, it is customary when in Barcelona to have a siesta. Read a book under a tree, rent a boat, or watch the acrobats practicing slacklining, acroyoga, and other feats of human agility at Parc de la Ciutadella. If you get thirsty fret not, a man will pass by hawking drinks.
1630: After the siesta, visit the Museu Nacional d'Art de Catalunya (MNAC). The permanent collection is divided into Medieval, Romanesque, and Modern Art, and each collection is very good. If you are into art you could easily spend four hours in one wing. Make sure you make it all the way to the terrace on the roof where at the front you can see the entire city, and from the rear, all the way to the ocean. Entrance is free every Saturday after 3pm and on the first Sunday of each month.
1830: Visit Montjuïc Castle and its exhibition on the history of Montjuïc where the stones used to build the newer neighbourhoods like Raval and Eixample were mined. The rear of Montjuïc Castle also affords a view of the Port of Barcelona.
2000: Catch the sunset at Estadi Olímpic de Montjuic Lluís Companys. Once the lights start to switch on, the setting sun reflecting off the water is quite spectacular.
2100: Head over to Raval, you can catch a classic film at the Filmoteca de Catalunya (shown in its original language version) or perhaps catch a musical performance or poetry reading at Club Cronopios (c/ Ferlandina, 16) where there usually isn't an entrance fee and you can tip the performer.
2300: Finally, I would have dinner somewhere in the area. Café de l'Opera on La Rambla has excellent churros which I dip in the hot chocolate, and is open until 1am.
2340: If you are too tired to walk home, the last metro runs at midnight usually, and there is a night bus as well.
So that's one of the many possible perfect days in Barcelona. In the end, you would probably spend €50 at the most, depending on if you packed your own meals and if you go to the historical sites on the free days. And when you go to bed at night, with a smile on your face, let the final thought in your head before you drift off to sleep be "Viva Barcelona," knowing that tomorrow you will wake up in one of the best cities in the world.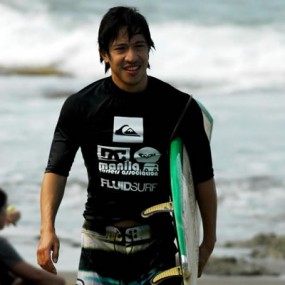 Born and raised in Manila, Philippines, José Gamboa is an artist and writer who moved to Barcelona to take postgraduate studies in Arts & Cultural Management. You can follow him on Twitter and Instagram.
If you'd like to write your 'Perfect Day in Barcelona' then please get in touch via the email address at the bottom of this website. I'd love to hear from you. The more we have the better!