I'm no newbie to Spain, but I'm a fresh arrival to Barcelona. After a year enjoying free tapas in Granada and another spent crouched over a space heater in rainy Bilbao, I'm excited to see what this cosmopolitan Mediterranean city has to offer.
I've been here for a month, and plan on staying till the end of June, when my English teaching contract ends and the country kicks me out for being a visa-less American. But I'm beginning to realize I'll need more than a year to really get to know this unbeatable city. I wish I knew the best place for pan tomaca; the cheapest (drinkable) glass of wine in the city; what time to arrive at my nearest Bicing station before all the bikes are taken. But there are only so many ways blogs and Lonely Planet can enlighten you; the best teacher is time. So here's how I envision my perfect day in Barcelona come June, when I've gotten more familiar with my surroundings and it's time to leave it all behind.
My Perfect (Semi-Hypothetical) Barcelona Day
I wake up naturally in my flat in Raval—the screaming baby next door has decided to pipe down just this once. First things first, I lace up my running shoes and jog all the way up Montjuïc without stopping. It's effortless, because an excess of queso Manchego and vino tinto this year has actually made me more fit. Science, people.
After showering, I head to the Federal Café (c/ Parlament, 39), for brunch. I'm not eating alone, because it's June by now and I've made at least 65 friends (all from different countries). One such friend shares my passion for modern interiors and baked eggs on toast, and agrees to join. We sip cappuccinos on the third floor terrace, and give thanks that Brunch Culture has started to catch on in this city.
Since I'll be eating again in an hour and a half (you asked for my ideal day, right?), I decide to digest with a walk on the beach. I head to the nearest Bicing station, which is miraculously well stocked with bikes that have working brakes and oiled chains. I ride to Nova Icària beach without getting screamed at by an elderly Catalan man for breaking traffic laws (happened last week), and also without getting hit by a tour bus (almost happened last week). When I arrive, there are plenty of spaces to dock my bike (did not happen last week).
I walk barefoot on the sand for a while, and almost consider going topless, because by June the Europeans may have softened me up. I marvel that all this is a 10-minute bike ride from my house. A lot of people bash Barcelona's beaches for being touristy and dirty, but how can you really judge a beach so harshly? It's a beach. On the Mediterranean. If you're not happy with it, move to Missouri. Or Madrid. Anyway, I can't find fault with the sand between my toes.
After politely turning down countless offers for a cold cerveza-beer-agua, I walk towards Parc de la Ciutadella. I've arranged a potluck picnic with all my fantastic international friends. Except I forgot to bring my share, so I quickly stop at Bar Bo de B (c/ Mercè, 35), at the edge of Barri Gòtic and order sandwiches to go. Despite the line of Americans out the door (suggesting it's a tourist trap), they have the best bocadillos in all of Barcelona. Everything from the fresh-baked bread to the sauces is perfection, and the portions are larger than a Thanksgiving dinner.
I meet my group in the park, and thanks to my light beach walk, I'm once again starving. We all gorge ourselves and laugh till we cry at one thing or another. I speak fluent Catalan with all my friends, because my free classes through the Cataluña city hall have been so effective this year. (And let's just say I get the highest marks in the class.) On a whim, a few of us picnickers decide to rent paddleboats for an entirely pointless loop around the park's pond, which is approximately the size of my living room. No pasa nada, though, because I'm too full of (American) football-sized sandwiches to do much peddling anyway.
In the afternoon I need to do a bit of writing, because my blog is where I pull in all my income. (*By June. A girl can dream.) I go to Copasetic (c/ Diputació, 55), order a slice of vegan gluten-free sweet potato cake (which is basically as healthy as celery), and marvel at the speed of the wi-fi. A fellow Mac user at my side asks what I'm working on. He tells me he's impressed with my concentration and dedication to the written word, and that his travel company is looking to hire freelance writers. I happily hand over my business card, and he ensures me a rich future jet setting and writing instead of teaching English to toddlers.
I work at the café until my laptop battery lasts, which turns out to be a cool 20 minutes since I got this thing in 2008. But just then, a very fashionable friend calls and we go do some vintage shopping in El Raval. We start at the shops right below my house on Carrer Peu de la Creu, my favorite being Novedades, where I find a spectacular pair of flats for just 10 euros. (Second hand sockless shoes? I try not to think about it too much).
After a long siesta, I have a dinner date with my Catalan boyfriend (it's only September now, so I'm still looking). I didn't meet him on Tinder or OKCupid, because Barcelona is more romantic than that. If I had to predict, I'd say we meet at a language exchange hosted on a sail boat at sunset—free tapas and cava till midnight—because that's how life works. Right?
We grab pre-dinner drinks at Ocaña, in Plaça Reial. I try not to be too guiri about things, but foreigners and locals alike can't help but enjoy an outdoor terraza in one of the nicest settings in the city. With a slight buzz, we head to one of my favorite restaurants, X, which I will discover by June, mark my words. For now, I wouldn't say no to El Jardí (in El Raval) for the perfect hidden garden setting; Mosquito (in El Born) for craft beer and Asian fusion tapas; or L'Anxoveta (in Gràcia) for the best bomba—and service—in the city.
We stay there drinking wine on the outdoor terrace until it closes. My ideal night in Barcelona doesn't end in a discoteca, because even though I'm only 23, I'm sort of an abuelita at heart. So we head to a lively bar, where all of our friends join, and we nurse mojitos till dawn.
Between dancing and sipping, I look back on these months and realize that during my third year in this country, Spain finally feels like home. Well, more specifically, Barcelona. I've found a city with beaches and mountains and a perfect climate; a city where I can type away in coffee shops without feeling acutely judged; a city where I become friends with people from all over the world, but at the same time have no problem practicing my Spanish and Catalan. I came here knowing no one, and now I've brunched and picnicked and wined and dined with people who have fast become my support network, my second family.
I take a Bicing bike home just before sunrise, and shockingly, there are plenty of spaces to dock it.
Readers—if you know the perfect places that will make this ideal day a reality come June, please let me know!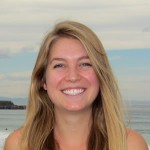 Jenny Marshall is the creator of A Thing For Wor(l)ds, an expat blog focusing on the intersection of language and culture. Someday writing will pay the rent, but she also currently teaches Catalan toddlers how to chant the colors of the rainbow in English. In addition to blogging, she spends her free time exploring Barcelona's cafes, traveling on a shoestring budget, and perfecting that sexy Spanish lisp. Keep up with the Wor(l)dly chatter on her blog, Twitter, and Facebook.
If you'd like to write your BCN Day then please get in touch via the email address at the bottom of the website. I'd love to hear from you. The more we have the better.