Yes, yes, I know it's winter. I'm a bit late with this one (apologies Jamie). But we still get those sunny autumn days in January. It's just a tad colder. Enjoy Jamie's autumn day and reminisce.
Back in Scotland, autumn would usually set in around the end of the Edinburgh Fringe Festival. The beginning of September brought with it plummeting temperatures, bidding farewell to summer and ushering in the winter wardrobe.
It's been 3 years since I made the move to Barcelona and autumn here is very different. Whilst it gets cooler in October, you can still squeeze in the occasional beach day and the only additional layering you'll need is a light evening jacket on the breezier nights.
But the mornings are noticeably darker and, on this perfectly autumnal day, I wake up at 8am and wonder when the clocks are scheduled to roll back as the first rays of sunshine filter through the curtains. I grab my phone from my bedside table and Google it – 28th October – just a few weeks to go.
After an intensive week of work, Saturday mornings usually involve – not a lot! If the weather's nice I'll head up to my roof terrace to have a coffee, breakfast, and hearty dose of Catalan vitamin D. If not, I'll stay in bed listening to the birdsong and the sounds of the old town streets below.
I may occasionally owe myself a lazy morning, but they don't last long. I'm on a bit of a health kick at the moment, so I motivate myself to head to the gym. I absolutely love my gym for its panoramic views across Plaça d'Espanya and Montjuïc. But today's not a day for soaking up sights – I came here to work out and that's what I'll do.
Once I'm done with my workout and have recovered in the spa, I walk along Aragó to meet my friend for tacos at Tamarindo. Their tacos Piratas here are my favourites – which are a mouth-watering combination of beef and avocado. My Mexican friend also recently got me hooked on café de olla, which is coffee made in a big clay pot with cinnamon and piloncillo. Tamarindo doesn't always have café de olla available, but on a perfect day – they do!
In the evening I like to seek out a vantage point to get a good view of the sun setting. It sets just behind Collserola and rooftop terraces can give you amazing views that you wouldn't believe at ground level. One of my top picks is the 360° bar at the stylish Barceló Raval hotel. Grab an Aperol Spritz, sit at a table facing the mountains and watch the sunset while asking yourself "¡Ay, Dios mío! How could anyone ever think that Barcelona is an ugly city?"
Feeling inspired by the colours of the sunset, I head to Arte Bar with some friends to get creative at one of their Paint & Wine evenings. Arte Bar was created by the lovely Alisa and Bruce, who are originally from the US but spent years in the French and Catalan countryside before moving to Barcelona to spread the arte. Tonight we're painting a skyline and I take the sunset I've just witnessed as inspiration. Even though painting isn't my strong point, Alisa and Bruce make me feel really comfortable and I learn new techniques whilst sipping on a glass of perfectly matched red wine.
After letting my paining dry it's time for dinner. My new favourite restaurant in town is Viet Kitchen. It's the latest Vietnamese restaurant in Barcelona, with a wide selection of authentic, healthy and tasty options on their exquisitely balanced menu. I love the spring rolls here, which you wrap with cucumber, mint and a large lettuce leaf. The chicken curry is to die for, which is creamy but not too heavy. Finally, you cannot leave Viet Kitchen without trying their speciality dessert – Kem La Dua, which is a taste sensation of cream, pandan and coconut. Magnífico!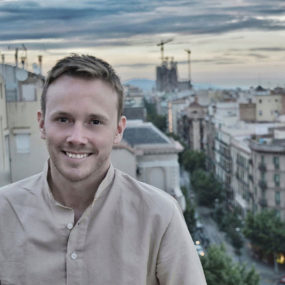 Jamie is a proud Scotsman, who left the cobbled streets of Edinburgh for the sandy beaches of Barcelona three years ago. He's a freelance digital marketer and helps many small and medium-sized businesses grow their online presences. When he's not working, he enjoys dining out, good wine, taking photos and travelling. If you'd like to connect with Jamie, you can reach out to him on Twitter and LinkedIn.
If you'd like to write your 'Perfect Day in Barcelona' then please get in touch via the email address at the bottom of this website. I'd love to hear from you. The more we have the better!