Today I will wake up with a plan, today I am setting out to discover my beloved city. Barcelona is indeed my perfect place to wake up.
In order to make it right this time, I am placing myself at the Platja de Mar Bella. It is an amazing feeling to be here with the fisherman in the morning and to have the rising sun in my back. The sunshine lets the sea gleam and fresh air fills my lungs. I love to be close to the ocean.
But a man doesn't just live from fresh air and sunshine, that's why I need to walk along the ocean boulevard and step onto the Rambla del Poblenou. Here I go to my friendly coffee shop El Tío Ché (Rambla del Poblenou, 44-46) for a much-needed dose of caffeine and a nice little pastry. [Ed: check out these amazing old photos of El Tío Ché.]
Poblenou is so close to the ocean and yet so funky… After walking up the Rambla del Poblenou I meet with some friends at the reforming Plaça Glòries. Yeah I need this constant transformation process that is going on right here, in order to keep me focused. Transformation is something I think everybody should embed in their lives.
So we discuss the differences that Ildefons Cerdà had when he designed the Eixample to what is currently being done by the government. I am lost in time… Arguing can be a favourite pastime of so many people in this city. I'm just taking part.
My tongue ran dry during these discussions so I need to refill and maybe have a fine little snack. I step into the Metro and ride to the old heart of the city. From Plaça Catalunya I walk up the calm Rambla de Catalunya. I drop into my favourite place on this boulevard La Bodegueta (Rambla de Catalunya, 100). The lunch set menu here is amazing, if you are early.
Strengthened and happy my journey moves on. I need to take in more views of the beautiful ocean town. In order to get a real overview I take the FGC train to the Peu del Funicular. From here it is a short run in the cable car in order to do my afternoon hike. I recommend this one to everybody who needs to do some thinking. Above everything and yet so involved into the whole Carretera de los Aigües. See my itinerary map for that one.
After this little walk up in the clouds its time to get down to earth. I will start this night in the neighborhood of Gràcia. So taking the train back down into the city I stop at La Pubilla (Plaça de la Llibertat, 23) for a short beer just across the street from my favourite market. Then I wander through Gracia's squares visiting Plaça del Sol and ending up with the alternative crowd at Plaça de la Vila de Gràcia. The funny thing is, today is my lucky day and there is an open air concert playing. It is just meant to be like this. Dancing with the people, meeting lots of new and old friends, this day turns into night and into day…
Life is good in Barcelona, keep being the way you are little, big city by the sea.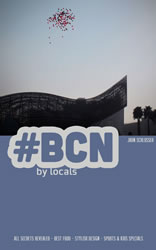 Jahn Schlosser, is the author of the book #BCN – by locals. If you want to get more travelling tips for Barcelona and the region be sure to check it out on either the iPad, Kindle or as a PDF. Homage to BCN readers get 2€ off by entering 'feelinghappy' when buying.
If you'd like to write your BCN Day then please get in touch via the email address at the bottom of the website. I'd love to hear from you. The more we have the better.