A short but sweet perfect day from embroidered bag designer Hope. This would be very close to my perfect day!
Living in Barcelona feels to me like living on holiday, with palm trees, beaches and sun on tap it's easy to feel that way. So my aim is usually to spend as much time outside as possible. I live in Barceloneta, the compact and lively old fisherman's neighbourhood by the beach, and I would choose to spend most of my time here on a perfect day.
I would choose a Saturday in Spring, spent with friends. I'd wake up around 10.30am and head to meet friends in a nearby beach cafe called Santa Marta (Carrer de Grau i Torras, 59), it's actually a pizzeria but they do great coffees, and it's a fantastic place to people watch, and wave watch whilst soaking up the morning rays.
Then we would head into Barceloneta for brunch at La Cova Fumada (Carrer del Baluard, 56), a very traditional, little, old fisherman's restaurant where they don't have menus, just a blackboard with a list of fresh fish they caught that morning (all in Catalan). When they sell out of something, they cross it off the board, then they close when everything is sold! So the ideal time to go is midday if you want to make the most of the mornings' catch. Besides the fish, a staple and favourite here is the delicious, oily, grilled artichoke, we always end up ordering more.
After a good hour spent in La Cova Fumada, we would skateboard down the beach boardwalk to Bogatell, or further (to get away from the beach vendors and hectic crowds) to set up shop on the sand for a relaxing afternoon at the beach, playing the odd game of bat and ball, and taking dips in the refreshing sea.
After a healthy dose of afternoon sun, we would seek some shade at the closest chiringuito for vermut and tapas, Escribà (Av. del Litoral, 62) is a favourite for that. They also do one of the best paella's in town!
Then we would skate back to Barceloneta for a bar crawl, a great neighbourhood for this. We would hit up locals favourite, Bodega Fermín (Carrer de Sant Carles, 18) on the square a caña and a snack. They do the best pan con tomate I've ever had, and that's a staple everywhere so it's a big deal! Paired with their goats cheese and honey on roasted aubergine dish, it's a winning combination. We would then head to Caupolican (Carrer de la Maquinista, 40) around the corner, a lovely little Chilean bar who do a dangerously delicious pisco sour.
Eventually we would end the night in Absenta (Carrer de Sant Carles, 36). This beautiful, old, traditional absinthe bar has been open since 1897, it has a really cosy and vintage atmosphere, along with the full-sized green fairy hanging from the ceiling…!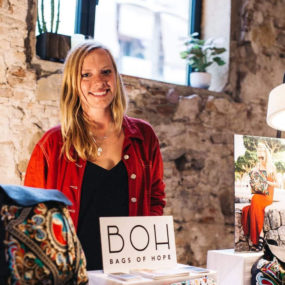 Though born in England, Hope grew up in the south of France and now gets to call beautiful Barcelona home. As a qualified fashion designer, her skillset helped her become the designer and owner of eco-conscious, embroidered bag brand Bags Of Hope. These beautiful bags are meticulously handcrafted to order using organic cottons and upcycled leather. If that sounds up your street, check out her Instagram @bags.of.hope and website www.bagsofhope.co.uk.
If you'd like to write your 'Perfect Day in Barcelona' then please get in touch via the email address at the bottom of this website. I'd love to hear from you. The more we have the better!