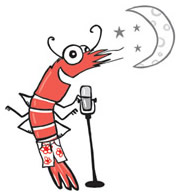 Guiri: a term used to describe a foreigner in Spain.
Giggling Guiri: English language comedy nights in Barcelona.
The first Giggling Guiri event I went to was back in October to see the Australian comic, Steve Hughes. He was hilarious. Fucking hilarious as Steve himself might have put it. I'd never heard so much swearing in one evening. Not even from myself on a particularly bad day for Jazztel's internet connection. Is it ok to swear so much? People will have different views. But I thought he was bloody funny.
The Giggling Guiri had recently started comedy nights at the newly refurbished 131 Fahrenheit in Eixample on Aribau. I like this bar. And it's perfect for comedy nights. Although I have to say they do need to sort out their sound equipment. They also do shows at Cafè Teatre Llantiol down in the Gòtic (c/ Riereta 7).
But last Friday was a special one. Howard Marks was in town with his one-man show, 'An Audience with Mr Nice'.
Howard Marks is a former cannabis smuggler who at the height of his career is said to have controlled 10% of the world's hashish trade. On release from prison he wrote his autobiography, 'Mr. Nice', that chronicles his exploits.
Marks is an unusual booking for the Giggling Guiri. He is not your typical stand-up comedian. A reluctant one maybe. But his views and anecdotes are highly amusing. He is intelligent yet self-deprecating. And has certainly led a life that is quite hard to imagine.
The Q&A session at the end was equally amusing and all in all it was an enjoyable evening. Laughter really is the best medicine.
Check out upcoming acts on the Giggling Guiri website or sign up to their newsletter. Up next is US comedian Lee Camp on the 18th & 19th March. And if you happen to be in Madrid there is a gaggle of giggling guiris there too!