I spend half my time here alone as my partner works away, so of course the most perfect days are when he's at home to enjoy this beautiful city with me, after all, that is why we moved here, for that "everyday perfect" lifestyle. April and May are my favourite times of year, not too hot but warm enough not to need a coat and not too busy with tourists. Russell makes the morning coffee as he always does and we sit in the living room as the sun streams through the window discussing our plan for the day. Coming from a seaside town, we both love to be near the water so spend a lot of time walking along the beach front and as a keen photographer, Barcelona is a great place for taking photos and today is a gloriously sunny day so I make sure I have my camera all packed up and off we head.
Living in the Barri Gòtic means you have easy access to all areas of the city and so it's no hassle wandering towards Port Vell through the narrow streets, stopping every so often to comment on something new or something we didn't notice the last time we walked by. I love the contrast between light and shade in the alleyways, I stop and get the camera set up, take a photo. We emerge onto Passeig de Colom and are instantly bathed with sunlight, the sun feels good on my face. We keep walking past the port along Passeig de Joan de Borbó to Vicino where we stop for an aperitif and an early lunch, a favourite of ours with a sunny terrace and a friendly atmosphere.
As it begins to get busy we leave and make our way to the beach, me stopping every few yards to take a photo. I've probably taken the same shot before but every time you see it it's like seeing it with fresh eyes and so I have to get the perfect photo. We walk along so far before we cut back through Barceloneta's narrow streets and towards the metro.  We are heading to Gràcia, another favourite neighbourhood of ours.
Gràcia, although part of the city, feels like "the village in the next town". With its many plaças, bars and restaurants and slightly bohemian feel, it's great to get that "local vibe". We wander for a while, explore and I take more photographs before grabbing a drink on a terrace in Plaça de la Vila de Gracia. This is a picturesque plaça with a beautiful old clock tower – Campana de Gràcia, made so that anyone in the neighbourhood could see the time no matter where they stood, and it's my favourite in Gràcia. I am snapping away while Russell sits relaxing with his beer.
After finishing our drinks we head down towards Avinguda Diagonal, past trendy bars and restaurants such as Old Fashioned gin and cocktail bar and Estel de Gràcia. We meet Passeig de Gràcia – the renowned shopper's paradise, as we leave Diagonal and continue to walk downtown. For architecture lovers this is an amazing street and being a huge Gaudí fan (how can you not be here?!), my particular favourite building of his, Casa Batlló, is on Passeig de Gràcia. I love to stroll the length of this street with my camera and capture the building in all of its glory. Of course you can also see other architectural gems such as La Pedrera, Casa Amatller and Casa Lleó-Morera. We continue to wander down onto Plaça de Catalunya and back down into the Barri Gòtic where the buzz of the city is in full swing. People on terraces having a wine after their shopping trip and gearing up for the night ahead.
To round of a perfect day we get ready to meet good friends for dinner later that night. The evening begins with some nice wine from what I like to call our local Zona d'Ombra – a lovely wine bar close to the apartment where you can eat some tapas and drink some great Spanish wines or simply buy a bottle to enjoy at home. We then head for either some trendy tapas from Selim and the guys at Gourmet Tapas by Sensi or maybe a more laid back meal at L'Antic Bocoi del Gòtic of cheese fondue (yum) and coques de recapte a typical Catalan dish that is made with a thin base of bread dough and virgin olive oil filled with any kind of topping you like.
After filling our bellies we have room for a cocktail (or two), anyone who knows me, knows that I LOVE a good cocktail! Collage Art and Social Cocktail Club in El Born is just the place, where art meets cocktails. I discovered this place on a holiday visit and have been coming back ever since! Small but welcoming inside, the décor gives that "cosy" feeling that makes you feel like you are drinking cocktails in your living room – although, we like to sit at the bar and witness the amazing creations being coolly made by Fernando and co!
The night draws to a close and we say our goodbyes, but we don't feel too sad as we know we'll do it all over again soon.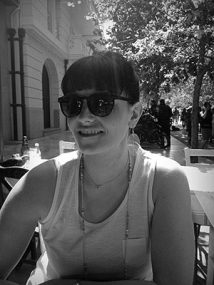 Gemma Reid moved to Barcelona from Scotland with her partner over a year ago after spending many years visiting the city. She began her blog shortly after moving to document her journey and because she was frequently asked for advice on travelling to Barcelona.  She is also a keen photographer who has just started building a portfolio. She loves anything food and wine themed and enjoys showing family and friends the "local" Barcelona when they visit.
You can read her heartBCN blogs about her time here and follow her on Facebook, Instagram and Twitter.
If you'd like to write your 'Perfect Day in Barcelona' then please get in touch via the email address at the bottom of this website. I'd love to hear from you. The more we have the better!