I have been living in Barcelona all my life, so I know the city like the palm of my hand: from the best cafés and cheap traditional restaurants to the most underrated city attractions, I am one of the lucky locals who can brag about their knowledge of the best things to do in Barcelona.
That is why when one of my coworkers suggested that we went on a free tour around the city I couldn't help but feel a bit skeptical. What could they tell me that I didn't already know? Spending an afternoon following a crowd of thrilled tourists didn't sound very appealing to me. However, I joined for the sake of team building and because I felt curious about how foreigners learned about my home town.
The perfect Barcelona free walking tour for tourists and locals
We decided to take the Free Tour Gaudí and Modernisme, which focuses on the most emblematic buildings of the Modernist movement in the 19th century. We met near Barcelona's cathedral, three minutes away from Plaça Catalunya. As it was a Sunday afternoon we were only 6 people (three German tourists, my coworkers and I) and the streets were quite empty. Our guide Diana was already waiting for us – as she was holding a blue umbrella at the meeting point it was not difficult to find her. We started the tour right away.
The first stop was Casa Martí, a modernist house built by the Catalan architect Josep Puig i Cadafalch. Our guide explained that the famous tavern Els Quatre Gats is located on the ground floor. At the beginning of the 20th century this café was the meeting place of writers, free thinkers and artists, and it hosted the first exhibition from the celebrated painter Pablo Picasso. Nowadays it is a bar and restaurant, and thanks to the well-preserved decorative elements you can still picture the bohemian vibe that once characterised the place.
After a ten minute walk we reached the next stop: Casa Lleó-Morera. Although I had admired its facade going up and down Passeig de Gràcia, a very popular shopping street in the city centre, I had never wondered about its history. We learned that it is one of the most ornate buildings in the city, and different sculptors and artists put together their efforts to design all the mosaics, sculptures, stained glass and wood carvings that decorate this impressive house.
Just a few steps away, we stopped by Casa Amatller, another modernist building designed by Josep Puig i Cadafalch. Here you can also see good examples of the most distinguishing elements of this architectural style, such as the elaborate sculptures and the balcony made of wrought iron. However, what many tourists miss is that inside the house there is a beautiful café where you can enjoy one of the best hot chocolates in the city. Our guide told us about it, and even though there wasn't time to stop I totally recommended the rest of the group to go later and try it. I was excited that the guide was talking about this cozy spot as it is one of my favourite places in the city.
At this point of the tour, our guide started explaining facts about Antoni Gaudí's life, the most famous Spanish architect. I have to admit that there was a slight eye-rolling from my side: in Catalonia we learn about Gaudí's artwork since kindergarten, and I can remember at least four school trips when we went to Sagrada Família, Parc Güell or La Pedrera.
In spite of my scepticism though, when we stopped by Casa Batlló I found myself amazed by the fact that the wavy design of its facade is inspired by the sea movement. I also learned that the tiles that top the building represent a dragon's back, the most iconic animal in Gaudí's designs, and I ended up taking as many photos as the rest of the group.
When we walked to La Pedrera, I was as engaged in the tour as the foreigners. Although the information about its design and decoration wasn't new to me, I didn't know that when it was first built it was widely criticised and mocked by other architects and artists. Even satirical magazines featured the building and described it as the result of an earthquake. Its design was so controversial and different from everything else at the time that the French politician George Clemenceau refused to give his speech there when he saw the building. I think this was the story I liked the best from all the tour.
The last stop of the tour was the world renowned church, La Sagrada Família. On our way there, our guide emphasised the importance of nature in Gaudí's designs as the shapes of trees, plants and animals were his main inspiration. Thanks to her explanations I found some details on the building that I hadn't noticed before. The church is also known as a famous unfinished masterpiece, and it is a common joke used among locals (I will get back to work when they finish la Sagrada Família!). However, as Antoni Gaudí said, there is no rush to finish it because his client – God – can wait.
After almost two and a half hours of walking around streets I knew, learning about their history and design, I felt excited enough to write about the experience. I think locals should join tourists in their quest for funny stories, secret spots and best historical facts of Barcelona to get to know the city better too. I am recommending this free tour to all my friends!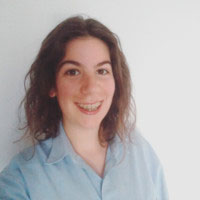 Born and raised in sunny Barcelona, Georgina loves traveling and writing about destinations from all around the world. She did her masters in corporate communication in her home town and now works there as a digital PR.