My perfect day would be a Friday in September. The city still maintains its business rhythm and schedule (the banks are open, you still can experience rush hour on the metro, with the intervals between the trains short and frequent). However, you already notice that the aura is more relaxed today and there is a foretaste of weekends in air.
I really adore Barcelona's Golden Autumn. The locals call it "El verano de Sant Marti". The weather now is not that killingly hot, but it's still warm and sunny. The bright colors of nature inevitably instigate me to go outside for a long walk around the city with my photo camera. The noise of crispy platan leaves under my feet immediately raises my spirits.
So, I wake up on my ideal Friday… I do not have any classes at the university and have finished all my job projects successfully the night before… I can afford myself some laziness today, so that my perfect morning barely starts before 10am. My cup of hot chocolate with melindros is waiting for me at the nearby Cafe Puiggròs right on Avenida Gaudí. I choose the table outside, on the terrace, to have the best view of the whimsical red-brick façade of Hospital de Sant Pau and all the strangers passing by.
I check the world news timelines, WhatsApps and emails. Step by step I wake up. I see that many Barcelonese already come back from their offices for lunch but I am still finishing my breakfast. Oh my God, it's almost midday! I have to hurry up if I want to participate in the activities of this last working day! I am still not used to the fact that my neighbourhood will fall asleep soon for a siesta, and all the shops will close until 5pm!
On my way to metro Sagrada Família, my morning idyll disappears, devoured by the traffic noise, hordes of tourists and waiters calling me to enter their restaurants. And this is really great – I feel myself included in the melting pot of this big city! I would get bored without this "pulse of a megapolis". I search for it (especially when I get nostalgic for my native never-sleeping Moscow) – I always come to walk down Passeig de Gràcia. Here you can walk at high-speed, here all the offices and shops are open all day long, here you can see an architectural combination of the traditional and very avant-garde forms (for example, in front of La Pedrera by Gaudí you see the very futuristic building of Suites Avenue by Toyo Ito). In this street I find analogies with the other European capitals: London, Berlin, Paris and Moscow.
It's 2pm and I am still not hungry but I would have a coffee break, As I'm on Gran Via now why not to visit my Alma Mater? Today I will not worry about any unprepared exams, projects or presentations, I have a day off! That's why it is a double pleasure to relax in the gardens of the University of Barcelona. I enter the historical building on Plaça Universitat, ask for a café con leche para llevar from the cafeteria and sit on the bench under a hundred-year-old palm. I meet some classmates and we chat. A woman from copisteria recognises me and smiles, a professor who taught our classes last year hurries up, recognises me and also smiles. I am a part of this student community, but today I am a tranquil observer. I am as idle and independent, as these cats who walk among the garden plants in their thoughtful philosophic manner.
A friend of mine whom I've just met spontaneously asks me to go with him to check the nearby CCCB. This museum always impresses me by its creativity: there are numerous scientific talks, contemporary art exhibitions, festivals of independent cinema and poetry slams there. It also has a great book shop, where I buy some designer postcards to share my daily impressions with the friends who live abroad. I like the hidden tranquil patio inside CCCB where we stop to relax for a while from the chaotic Raval. Then we head to the lively square in front of MACBA. This place with skaters, passionately jumping to and fro, is an epitome of urban creativity and non-conformism. The same associations come to me when I see surfers during my walks on Passeig Marítim. In autumn days the winds may be already strong enough, so that these risky people come to the beach to catch their perfect wave, adrenaline and piece of inspiration from the sea.
The sea attracts me as a magnet too! At least once a week I am here wandering along the coastline: I've seen Barcelona's sea during all months and seasons; in the sunny, stormy, windy days; at the morning-, day- and night-time. But on this very ideal Friday I witness the Mediterranean Sea at the sunset!
I start my stroll from Port Olímpic and then go in the direction of Badalona, which is less noisy and touristic than Barceloneta. I keep on taking pictures of the sea, although I have a huge collection of marine snapshots already (who knows, maybe one day I'll make an expo dedicated to the coastline views of Barcelona)!
I meditatively stare at the seagulls, take a breath of fresh air on a pier, count the sailing boats… What's that? A new message in WhatsApp! I totally forgot that it's already 9pm. I head up to Rambla del Poblenou to meet my local friends and have some tapas.
And then we all just improvise according to the situation: a guitar concert in a pub, a disco or stand-up comedy… We'll see! Barcelona has a lot to offer and surprise you. So I'd better stop planning and just enjoy! And this will be my perfect day!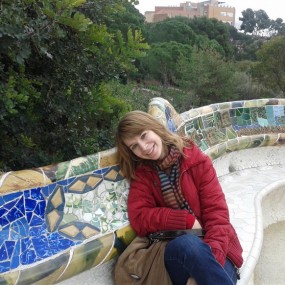 Elena is a professional translator, linguist and freelance journalist, originally from Moscow. She's been living in Barcelona since 2013. Now she works over her PHD project at the university. She's always been passionate about urban culture: all her free time (earlier in Moscow and now in Barcelona) has been devoted to the studies and exploration of the various art events, photo installations, unusual film and music festivals and off-the-beaten-track mountain or seaside routes. She shares her impressions on Twitter and in her cultural blog called I Was A Little Bored But Suddenly.
If you'd like to write your 'Perfect Day in Barcelona' then please get in touch via the email address at the bottom of this website. I'd love to hear from you. The more we have the better!