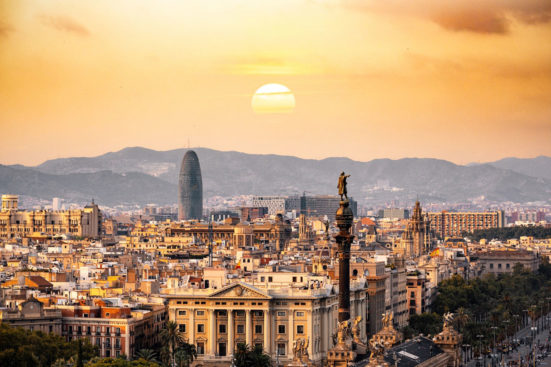 The modern business environment has evolved in leaps and bounds thanks to the fast internet and portable devices. Besides this, the millennial generation which is slowly dominating the work environment, prefer jobs with flexible working hours, that also does not require them being in the office from Monday to Friday.
In a recent study, over 30% of the population are freelancers and leverage on technology for work. These freelancers are also known as digital nomads and forecasts show that the number will continue to increase exponentially, and by 2035, there will be more than 1 billion digital nomads. And what better place to enjoy this work-life freedom than in sunny Barcelona.
In 2015, Spain, and especially the city of Barcelona, had the third highest number of digital nomads using over 300 co-working spaces throughout the city. Today, Barcelona is the fastest growing digital nomad community in the world, who can work anywhere, from coffee shops, hotels, and public libraries, to name a few.
What Do Digital Nomads Do
In a study by the New York Times, many industries are now embracing remote working options. Companies pay less money, and their employees are able to travel the world, with their laptops, working in a number of fields including: marketing, copywriting, as a developer, and so much more.
For adventurous types, the thought of a 9-5 job, stuck at a desk, is not only repetitive but also restrictive. Digital nomads yearn to travel the world, interact with different people, and learn about the different ways businesses do things. This is what drives them, a never-ending curiosity to learn and evolve.
Why is Barcelona the Digital Nomad Heaven?
There are various reasons as to why Barcelona is the most alluring location in the world for this new type of modern-day worker. Below, we explore 5 top reasons contributing to the rise of digital nomads in Barcelona.
1) A Bustling Coworking Community and Startup Scene
Barcelona is one of the top cities enjoying a bustling startup scene with an abundance of co-working spaces. With over 300 co-working spaces, the city has become an ideal location for digital nomads and like-minded people from over 40 countries, working and living together while sharing professional as well as cultural experiences.
More so, Barcelona has become synonymous with technology and innovation, and the city is slowly becoming more open and modern. Statistics show that there are over 4 million expats in Spain and close to half of them are living and working in Barcelona.
2) A Smart City with Fast Internet Connection
Barcelona just so happens to also be a city with one of the fastest internet connections in the world. The city enjoys a world-class fibreglass connection that allows for download speeds of up to 300 Mbit. This means that you get hassle-free video streaming, or Skype calls, meaning you can do your work without worrying about losing connection. And many public spaces such as bars, hotels, coffee shops, and libraries offer free Wi-Fi.
The innovation district, 22@, is Barcelona's equivalent to Silicon Valley in California. The area was once a slum and industrial park, but today, it hosts modern co-working spaces, and it has led to someone of the biggest concentrations of intensive technological activities as well as knowledge sharing. For this reason, Barcelona was named the 2014 winner of the European Capital of Innovation.
The government is investing heavily in transforming Barcelona into a smart city with a thriving IT ecosystem, that will make it the ideal digital nomads' hub, not only in Europe but in the world. Its latest effort is to gather information on the visitors, and this will help the government propose city activities that will spearhead its journey into becoming a smart city. 
3) Lots of Events and Meetups
Among the many things pulling digital nomads to Barcelona is the myriad of English-speaking events. You will find at least ten meetups and events on any given day of the week. These include, free lectures, workshops, networking meetups, that attract entrepreneurs, freelancers, and start-ups from around the world. This makes it easy to make friends and business connections almost every day, or night, of the week.
4) An Ideal Climate and Breathtaking Landscapes
While digital nomads can work from anywhere in the world, the weather and climate in Barcelona is hard to beat. Not too hot, not too cold, and plenty of sunshine all year round.
Of course the 5-kilometer strand of a white sandy beaches and picturesque mountains don't hurt either. More so, you can enjoy the full perks of living in a modern European city, great food, and relaxing landscapes when you need to take your mind off work.
5) Low Cost of Living
Compared to most cities in Western Europe, Barcelona has a lower cost of living. In a recent survey, most locals can live comfortably on 1200€ per month, inclusive of all your living costs and expenses. On average, an apartment goes for 600€ while a shared room goes for 350€ per month. However, you have to know where to look, and this is why it is important to attend networking events and meetups.
Other than this, Barcelona is the perfect city to connect flights from and see other parts of Europe at unbelievably low prices. It takes approximately 20 minutes from downtown Barcelona to the city airport, El Prat, for only 1€. Once there you can get promotional flights from as low as 10€. You can also get these flights from close by airports including Reus, and Girona.
Conclusion
There you have it, five reasons why Barcelona is an entrepreneur haven. The high number of co-working spaces allow free-spirited workers a place to meet, earn good money, learn, and have fun all in one place.
This article was written by Jessica Tran from Cahoot Coworking. If anything in this article speaks to you, or you've ever been interested in checking out a co-working space for yourself, don't hesitate to stop by Cahoot Coworking for a trial day or just a chat! If nothing else, they can still tell you the best places for food, coffee, and cocktails in the city.
If you are a Digital Nomad visiting Barcelona you can join the Barcelona CoWorking Days community as they hold FREE coworking days at different spaces around the city twice a month. This means you can Meet Up, Work Socially while Being Productive with a local community of freelancers, startups and entrepreneurs.