There was this bakery that I absolutely had to try while I was on holiday last September in Barcelona. It was on my "list" before we even landed in Barcelona. Yes, I am a "list" person. So we planned our day's itinerary around Hofmann Bakery on Carrer dels Flassaders in El Born – even though our accommodation wasn't so close. We were so glad we did though, because our day turned out to be awesome!
T (my beau) and I hopped on the metro in the morning at around 9am since we knew Hofmann wouldn't be open before then. Why does the city sleep until 9?! The bakery is so inviting, and filled with tempting delights. Who doesn't love the smell of freshly baked sweet treats in the morning?
We got three different kinds of croissant and a very yummy-looking cinnamon roll because we have no will power. We then made our way to Parc de la Ciutadella, which was only a 15-minute walk from the bakery. A stop for coffee was also on our itinerary; you can't have fresh croissants without coffee!
The park usually isn't too crowded in the morning which is always a good thing in my book; we chose a nice green patch of grass under a rather large tree and set up our goodies on our picnic cloth (which we bought the day before just for this occasion). The flaky croissant stuffed with creamy mascarpone was my favourite. Also, the one stuffed with milk chocolate. T and I actually went back to Hofmann the following morning to have one last croissant (or another three) before we unwillingly left Barcelona.
A lazy morning in the sun with good food and great company is just what we needed to start our perfect day in Barcelona.
Two hours later, we made our way to Barcelona's popular zoo adjacent to the park to do some animal-watching – although people-watching is much more entertaining in my opinion. We were very surprised when we saw how many animals live in this zoo – our tour seemed never-ending! We caught a dolphin show which was pretty cool and there were some fancy peacocks running around loose in the zoo, which we found rather funny.
After all that walking around, we were hungry. It was around 3pm (lunch time already!) so our next stop was the quirky Federal Café back in El Born. The place was really crowded, but after 15 minutes, we finally found a seat outside and ravenously ordered lunch: Burger with wedges for me, Club Sandwich (I believe) topped with a runny sunny-side-up egg for him.
Now that we've refuelled, it's time to get lost in El Born and Gothic Quarter!
Getting lost in these twisting old streets and historic alleyways became one of my favourite pastimes in Barcelona. It's the best way to get to know the real Barcelona. There's always a chance you get lost and stumble upon something new too! There are also many free walking tours in this area, but we didn't really get a chance to do one; I definitely will do one if I ever find myself back here.
Some window shopping was in order and then some unplanned over-indulgent purchases (shocking, I know!) in the oh-so-many charming and interesting vintage shops we discovered in the area. I also ended up buying some pretty cool souvenirs for the family (and a pair of black leather boots for myself).
Can chocolate be classified under the "shopping" category? I love chocolate more than I love my Nikes (which never leave my sight when I travel), so that's saying something. T and I stopped by a chocolate shop (well, I forcefully dragged him in) and I ordered us some hot chocolate; because no day is considered perfect without chocolate. No discussions there.
Eventually, it was time for dinner, so we went tapas bar hopping in Gothic Quarter which was a lot of fun – and pretty interesting since we got to try different combinations of flavours that we wouldn't normally try on our own.
Well, while we were discovering and getting to know the city, we fell in love.
I'm not much of a night person; a perfect night to me would be a home-cooked dinner with the beau while we binge-watch series or a good movie, and then bed time by midnight max. So sorry guys, no clubbing in this story! You can always head to La Barceloneta for the good clubs; however keep in mind the party doesn't start before 1am and goes on until morning. I now understand why shops open after 9am – everyone's still asleep while I stare at the "Closed" signs on the storefronts!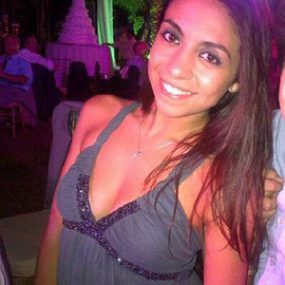 Born in England and raised in Beirut, Christina is an experienced ISO-certified quality auditor at an Engineering, Procurement & Contracting company based in Lebanon. She is also a freelance blogger, healthy foodie, fitness enthusiast, and culinary traveler with a passion (and a big appetite) for all things food! Check out her exciting adventures and tasty discoveries on her blog, Traveling with Thyme.
If you'd like to write your 'Perfect Day in Barcelona' then please get in touch via the email address at the bottom of this website. I'd love to hear from you. The more we have the better!