I have been living in Barcelona for three years now and, while here, I've had a lot of days that have gone perfectly. For this article, I am going to combine a few of these perfect days to make one really unforgettable day in Barcelona.
As many of my friends and family often come by to visit us in Barcelona, I need to come up with a variety of ideas regarding how to entertain them. Since they come more often now, I have to show them some unique places that are far from the touristic parts of Barcelona.
I am currently living in Eixample, so the majority will take place here, but I am also stepping out of my comfort zone to go to El Born, Horta and El Raval.
Normally we have a big breakfast at our place (sorry, I have no breakfast tips for you). But, after this we'll start our tour in El Born.
So, take the metro to 'Barceloneta' and head down the narrow streets of Born. This quarter of Barcelona has a remarkable past, historical buildings, beautiful sights, like Santa Maria del Mar and the newly-opened Mercat del Born.
But beyond that, Born has lots of nice little shops. Some are a bit expensive; others have great vintage and handmade stuff, like The Box (in Carrer del Brosolí 8), Nunita (in Carrer del Rec, 61) or MONTSE LIARTE Boutique (in Carrer dels Banys Vells, 5).
After a bit of window shopping (ok, let's be honest: real shopping), we are heading to my favorite museum. No, not the Picasso Museum. Right around the corner is the MEAM (Museu Europeu d'Art Modern in Carrer Barra de Ferro, 5). It's a small museum in a lovely 18th century palace with great contemporary Spanish art. They have great exhibitions: the last one was about Golucho, a Spanish painter.
The artworks of the MEAM are often so realistic and touching… I am totally impressed every time I go! I know that contemporary, realistic art is not everyone's favorite, but, if you like this kind of art, you will love the MEAM!
After shopping and visiting the museum, it's time for a little 'pica pica.' So we take the metro back to Eixample and look for a place at Morryssom (in Carrer de Girona, 162). They have the best tapas in town! Everything is fresh, it's very affordable and you can chill and enjoy the great Catalan spirit of waiters shouting and guests talking loudly.
After some great 'mejillones,' we head to the Hospital de Sant Pau (Carrer de Sant Quintí, 89). To go there, we take 'Calle Provenca' to look at the waiting line for Sagrada Família—being happy that we already know about this monument and don't have to wait as long as them to get into the hospital!
The Hospital de Sant Pau was closed for a long time for historical renovations. Now visitors can see the great modernistic building constructed by Lluís Domènech i Montaner. The main building is the best one; once inside, you'll feel like you are in a wonderland. Colorful mosaics everywhere! Flowers in mosaic, floral reliefs, high ceilings … just lovely!
After this beautiful visit, we want to see some real flowers! So, we take the metro to Parc del Laberint d'Horta (Passeig dels Castanyers, 1). Take the green metro line to 'Mundet' and, after a little walk, you can enter the park.
It's such a quiet local park… So take your time to relax a bit! Now we are sitting down on a bench, listening to the birds, smelling the flowers and being happy to be in Barcelona! Then we enter the park a bit deeper and we get lost in the labyrinth…
Now it's time to relax; we've arrived home, but shortly after it is time to change clothes! Where should we go for dinner in this great city? That is a hard decision! There is really a lot to discover.
First, we are taking our 'aperitivo' on a rooftop in Raval: the 360° Bar on top of the Hotel Barceló (in Rambla del Raval, 17-21). You have a great view over the city; the drinks aren't cheap—but this view is worth a glass of cava!
For dinner, we are going to El Centric (in Carrer Ramelleres, 27). It's a cool bar with great burgers, but you can get also tapas. At the bar, we watched the Football World Cup of 2014 … and Germany won, so this bar must be good. :D
For a late night drink and to finish off this great day, we go to Bar 33/45 (Carrer de Joaquín Costa, 4) or Gipsy Lou (in Carrer de Ferlandina, 55), which has great, reasonably priced mojitos.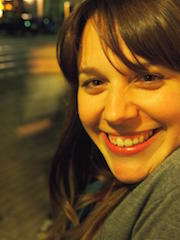 Céline lived in Frankfurt, Germany before moving to Barcelona. There, she worked for two museums—and "Culture" is still her favorite sector. She is now 'autonoma' and running two websites about Barcelona. One is about the museums in Barcelona (www.barcelona-museum.com) (German only), and the other one is about the best sightseeing-offers in Barcelona (www.bcndiscovery.com) (German and English). She created both websites for tourists who are looking to find the best selection for their Barcelona trip.
If you'd like to write your BCN Day then please get in touch via the email address at the bottom of the website. I'd love to hear from you. The more we have the better.