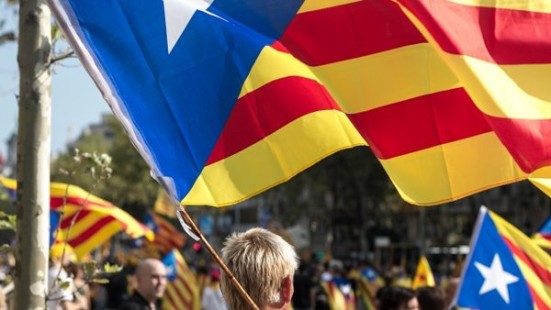 Crowdfunding is where a project raises money from a number of contributors via an enabling platform such as Kickstarter. It has been a source of capital for many products and ventures where other funding opportunities weren't available, or as straightforward. The contributor is supporting someone's idea before it has actually come to market. In return they may get the product at a discount, or some other reward. Incredibly this industry has grown to be worth over $5 billion globally.
Barcelona is a hotbed of startups, venture capitalists and crowdfunded ideas. We have written previously about the crowdfunded art exhibition, Las Calles Hablan.
Catalonia Is Not Spain: A Historical Perspective
This article is about a crowdfunded book. The book is called, "Catalonia Is Not Spain: A Historical Perspective". The author is Simon Harris.
Englishman Simon Harris has been living in Catalonia for over 25 years. I first came across him when I bought another of his books, Going Native in Catalonia, a book which "digs deep beneath this nation's psyche to give you a warts-and-all induction into the Catalan way of life".
Simon's new project is an overview of Catalonia's history and its difficult relationship with Spain. It is a pro-Catalan book for sure. Harris offers arguments as to why Catalonia has the right to decide its own political future. The book is clearly aimed at the outside world. English-speaking people with little or no knowledge of Catalonia's plight. I'm presuming a kind of Catalonia 101.
The following description is taken from the project page:
Written in English, Catalonia Is Not Spain: A Historical Perspective is a brief overview of the history of Catalonia with a particular focus on the Principality's often difficult relationship with a Castile-dominated Spanish state.

Author Simon Harris offers clear insights into the historical reasons why Catalans have a right to decide their future. The book is designed to inform the English-speaking world but his sharp observations will also surprise many Catalans.

Catalonia Is Not Spain: A Historical Perspective is a tightly-argued chronological analysis of the territory known as Catalonia and the people who occupy it. Its strategic position in the north-eastern corner of the Iberian peninsula between modern Spain and France has shaped its history and its fertile plains and mountain ranges located in an accessible corner of the Mediterranean have influenced its economy.

With emphasis on the development of its political institutions and the importance of its capital, Barcelona, as defining features, comparisons are made between Catalonia and the other Iberian nations, in particular, Castile and Madrid. Harris argues that chance had an important role to play in the creation of modern Spain and that Catalonia could quite easily have retained its sovereignty in the same way as Portugal did.

Although Catalans and Spaniards will find the arguments refreshing because parallels are drawn between Catalan and Anglo-Saxon democratic concepts, Catalonia Is Not Spain is specifically aimed at an English-speaking audience with a more superficial knowledge of the traditional tensions between the peoples of the Spanish state.

The argument is clear that a people with their own territory and political institutions have every right to define themselves as a nation and take democratic decisions about their own political future independently of the opinions of the state of which they currently form part.
Contribute
The project has a funding target of €2,500. Contributions will go towards employing professional services for editing, proofreading, layout and design as well as book preorders.
If you would like to contribute please visit the project's crowdfunding page and support this interesting work. Visit Catalonia Is Not Spain: A Historical Perspective.
You can contribute as little as €5 for which you will receive the eBook edition of the book. Greater contributions receive greater rewards.
Further links for the book and the author, Simon Harris