I've been in and out of Barcelona for the last few years – it's my second home right now. Ok, so I do have a fair few places in the world in which I instantly feel at home. But right now, my most regular flight-path is LDN-BCN.
I'm a highly creative and energetic person, so what I love in Barcelona is that I can walk and cycle everywhere – and reach a multitude of contrasting destinations in no time, be it to spontaneously meet someone for a drink, climb up a green peak, catch the end of a gig or head to a casting. My perfect day would avoid going underground or being inside during daylight hours if at all possible. (I get plenty of tube and bus-travelling in when I'm in London, and as you know, the weather is not quite so consistently sunny and conducive to outdoor activity there!)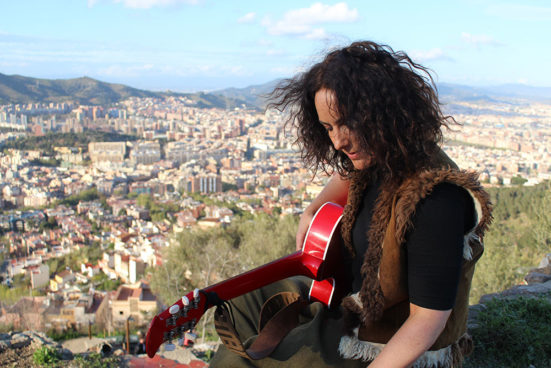 Now, being a keen multi-tasker, I love to start my day with a Bic-ing* ride to either a quieter part of the beach, more Bogatell-way, or to the Barceloneta-side, which yes, is touristy, but has an outdoor gym which is super useful if you like me, are partial to a healthy chunk of resistance training. Or enjoy gazing at the impressive "display" of acrobatics and muscle-flexing. ;)
I choose Bogatell beach if it's water-swimming weather, and I park up and hit the water. 'But what do with your stuff when you swim?' I hear you instantly throw back at me. Well, it's easy. My valuables come with me in my dry-bag, giving me both thief-protection and visibility to boats and such. ;) (NB I swim quite far out). My other bits stay on the beach.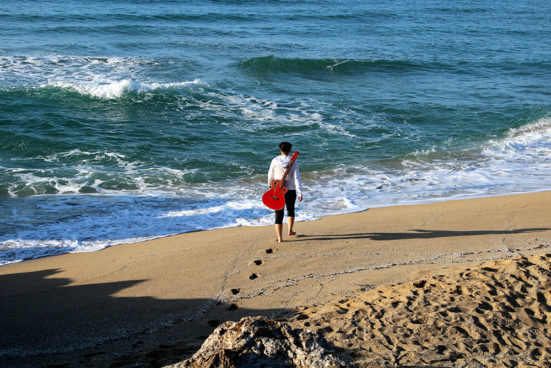 If I feel more like running, or it's too damn cold for a swim, then I park up by Barceloneta beach, and run up and down the beach with a nice long stop-off at the outdoor gym area to work on some muscle-groups or use the flat and spongey surface for yoga. Yes, it's male-dominated and heavy in grunting testosterone, but I find that motivates me on two levels: to not only maintain and support the female numbers, but also to keep up with the male pacemakers.
Whichever workout I go for, I then finish up with a meditation session (I practice and teach Ascension Meditation) by the sea's edge, and hunt out a take-away coffee and croissant, depending on which beach I'm at, and savour every damn-well-earned calorie.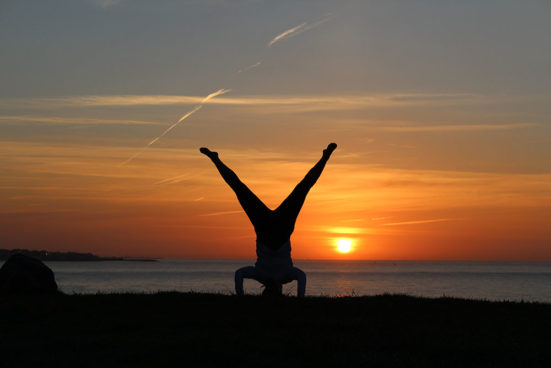 Sitting by the water post-workout inspires me greatly, so it's soon time to cycle back home for a shower, and I'm then ready to create, either in a funky cafe en route, or on my rooftop, depending on whether it's a day for laptop or guitar-based facets of my work. (Another aspect I love about Barcelona is that so many homes have enormous rooftops, which are perfect to work on music, providing incredible views and privacy.)
Now, I would also describe myself as a workaholic (digital) nomad, so even if I have a love-hate relationship with technology, I appreciate the freedom gained from being able to work anywhere. I go from book-scribbling in a cafe, to recording phone-audios and videos on the roof, and tapping hours on end into my laptop into the early hours at home, to working outside (preferably with a view or near water) with my guitar at Magic-Hour (my favourite time to compose).
I love to work. I also love to eat. Especially long lunches and dinners with inspiring people. Another great thing in Barcelona is the menú del día, which makes it easy to have a combo of well-made local dishes, washed down with a generous helping of wine, that doesn't bleed you dry. I do find I have lunch out in Barcelona more than I do in London! Not simply because it's such good value, but because it is still such a tradition to take a long lunch-break, and there is always such a lovely daytime atmosphere in the restaurants. People value how important it is to take time to eat well, and to talk and connect (and disconnect from the internet and technology).
I might add that if I have had a "long lunch", it is not my norm to also have a "long dinner" – I would probably have to have a workout in-between ;)
Either way, having an aperitif or digestif to start or finish-off some fine dining, outside on the street, is just a joy. Be it in hipster-ville or a what-it-says-on-the-tin bar (with a corner of raucous and slightly sleazy men), it's still something I love to do in Barcelona with a friend or ten. And be it as the sun goes down, or way after midnight, you can't beat the vibe. Maybe it's the English part of me that still can't quite believe so many street corners have a place where you can sit outside, sip and munch, and watch the world go by.
All in, I guess my perfect day is a little vague in it's recommendations, but that's because I am a creature of passion as opposed to of habit. So what I've shared is a general trend of what I love to do when I don't need to be somewhere else.
*Bic-ing, if you are a Barcelona first-timer, is the public bike-share-system, which I am delighted to see is in the throes of a makeover. Up until now, it has always been a lottery as to whether the bike you were allocated had a functioning seat AND brakes (let alone the cute little bell that had a one-in-twenty chance of actually still being there and a one-in-thirty chance of working). Recently I have had the joy of using the new bikes, and it's a huge improvement.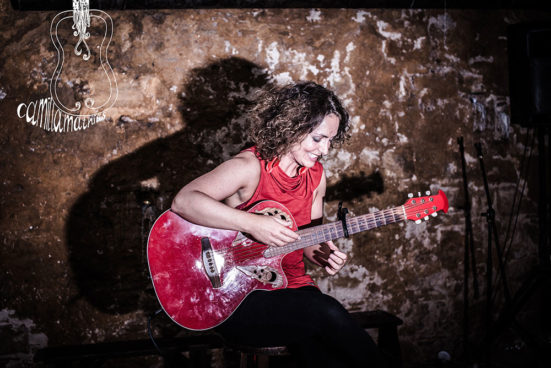 Camilla Mathias is a British/Romanian actress, singer, guitarist, composer and artist who works  worldwide in more languages than she has fingers. Described by BBC6 Music's Chris Hawkins as "A beautiful, captivating and delicious chanteuse", Camilla has recorded vocals for Yann McCullough (Spectre, Grand Budapest Hotel), classical guitar for Channel Four's award-winning series Unreported World, had her Romanian-Language track Sunt Romanca chosen for a charity album produced by Annie Hogan (Marc Almond), played alongside Jean Reno in Parisian/FOX TV series Jo and been commissioned to paint a series of portraits for HSBC.
Camilla's Barcelona-shot music video:
Check out Camilla's Barcelona-shot music video "Don't", a highly engaging anthem to admin and technology stress. Brooklyn's Left-Bank Magazine recently responded with, "Don't forget this name: Camilla Mathias".
httpvh://youtu.be/SKIKQhwPoHI
Check out Camilla's work on her website:
And follow her on:
Or listen to her music:
If you'd like to write your 'Perfect Day in Barcelona' then please get in touch via the email address at the bottom of this website. I'd love to hear from you. The more we have the better!