My perfect day in Barcelona would start with a nice long lie-in. It's a day in early summer – not too hot yet but warm enough to go out without a jacket. My puppy would eventually drag me out of bed (he always does) so I could start off my day with a walk around Gràcia, greeting my neighbours as I pass, or rather allowing my neighbours to greet my dog.
I'd start off the day right with a chocolate-filled croissant from Knel·la bakery (c/ Milà i Fontanals 9) in Gràcia, or big helping of vegan French toast made with orange zest and topped with real maple syrup at DosTrece (c/ Carme, 40) in Gotico (or both if I was having a very gluttonous morning). As a food and travel writer, sometimes I like eating food I've already written about, so I don't spend the whole time I'm eating it reviewing it in my head!
After brunch, I'd get stuck into some work – I'm currently working on my second book, which involves very little actual writing somehow and a whole lot of research, formatting and marketing. After a few hours of work, I'd take a walk through Eixample and spend some time at La Parroquia de la Purísima Concepción, a respite of calm and peace in otherwise busy streets.
For lunch, if I didn't have any leftover deep dish cashew cheese and spinach pizza on a beer bread crust (hey, I started preparing for my perfect day the night before!), I'd head to Vegetart. It's one of my favourite little spots in Gràcia, a takeaway deli tucked into a little shop off Torrent de l'Olla. Everything is vegan and priced extremely reasonably, from €1.50 to €3, and they have the best vegan tortilla (yes, it exists, and they make it with chickpea flour!). They also have amazing chewy, American-style cookies. I'd get a slice of tortilla and maybe a tub of pasta or salad and take it to eat in the sun on Plaça de la Vila de Gràcia or Plaça del Sol. Nothing beats lunch outside on a sunny Gràcia plaça while people watching!
After lunch, I'd head to my second home/office, Onna Café (c/ Santa Teresa, 1) in Gràcia. They have great coffee (they source the beans from Costa Rica themselves), vegan carrot cake and wifi – everything I need to keep me fuelled while I work, essentially! Recently I've been working on a vegan summer travel guide (which is now available to download free), gathering a list of vegan-friendly summer destinations from travel bloggers I know, researching advice on camping, road trips, retreats and cruises (not the kind of travel I normally do, hence the research), plus putting together a list of summery products to pack in a suitcase (like non-leather sandals, fair trade clothing, and more!). I did most of the work of creating the guide in Onna.
After finishing up, I'd head down to the beach to walk the dog along the sea – there's something so soothing about the sounds of the waves crashing on the shore (also I always sleep so much more soundly after a day near the sea!). Or, I'd go to a yoga class. In an ideal world, I might even do my yoga on the beach – last summer I attended a yoga class on the beach. There's nothing so relaxing as doing your postures and post-yoga meditation as the waves crash into shore and the sun sets over the Mediterranean.
After my walk/yoga, I'd meet a friend for dinner – either one of my favourites (like these 6 must-eat dishes in Barcelona), or my other favourite pastime – testing out new restaurants. For example, I recently got to test out Barcelona's newest vegetarian restaurant, Green Spot (c/ Reina Cristina, 12) in Barceloneta. The perks of being a food blogger! Those perks include quinoa vodka cocktails, brownies and a lot of cashew cheese. Of course it's not all just eating – I also always bring my camera to dinner and frequently shout at my friends "DON'T EAT YET!" if they dare try to take a bite out of a dish before I get a shot. So, yes, it's important to note that if you go for dinner with me you might get a free meal but it might also be cold by the time you get to eat it. ;)
After dinner if we felt like staying out a little longer, I'd suggest Elephanta (c/ Torrent d'en Vidalet, 37), a tiny gin bar in Gràcia. In addition to a huge variety of gins and their own infusions, Elephanta does great cocktails and mocktails. After this I'd definitely be ready to head home and to bed. Another perfect day in Barcelona!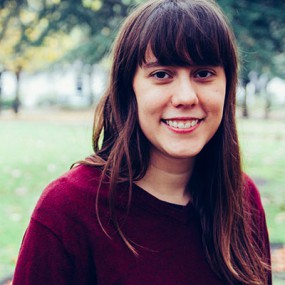 Caitlin Galer-Unti is a vegan food and travel writer and author of The Essential Vegan Travel Guide. Caitlin is originally from the U.S. and currently living in Barcelona (after a 7-year stint in London). She's traveled to 30 countries (and counting) and blogs about the vegan food she makes and finds around the world at theveganword.com, which has been featured on The New York Times and Yahoo!. You can download her free guide to the 5 best-kept vegan secrets in Barcelona at veganbarcelona.com.
If you'd like to write your 'Perfect Day in Barcelona' then please get in touch via the email address at the bottom of this website. I'd love to hear from you. The more we have the better!