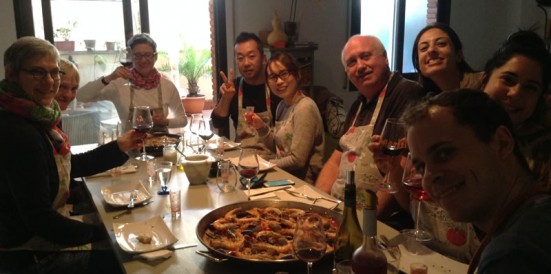 The slow movement, ironically, continues apace since its roots in the mid-80s and the founding of the Slow Food organisation whose ideals advocate slowing down life's pace and fighting against the notion that faster is always better.
But what is slow travel?
In writing A Manifesto for Slow Travel in 2009, Nicky Gardner describes it thus:
"Slow travel is about making conscious choices, and not letting the anticipation of arrival undermine the pleasure of the journey. By choosing to travel slowly, we reshape our relationship with place and with the communities through which we pass on our journeys."
Guillermo and Cristina of Barcelona Slow Travel combine the values of slow food, slow travel and eco-tourism. They pride themselves on providing experiences that align with the principles of authenticity, sustainability and human experiences. And above all, they're just lovely.
At the moment they offer 4 slow experiences:
I was invited to join them at their apartment to cook a paella. But first we met at the food market near Hospital Clinic, El Ninot. Unlike the bustling Boqueria, El Ninot was very relaxed, slow even. It was a Thursday morning and there was plenty of space for our little group to not get in the way which I'm always conscious of on this type of tour.
This is Guillermo's local market and he has a great relationship with all the stall holders. He takes us through what we will be cooking and explains what we need to buy in the market. At each stall he shows us the ingredients on offer and checks their provenance with the proprietors.
He brings his own reusable bags and pots for the things he buys, and I'm sure the stall holders find this endearing and maybe even a little strange. But to Guillermo it's just the way it should be. After an hour, or maybe longer, we stroll back to the apartment that he shares with Cristina.
Cristina welcomes us, their apartment is lovely. It has a beautiful terrace with their own little veggie garden made out of old pallets. The dining table is a huge door they found on the street that has been stripped down and fixed to a chest of drawers. It's perfect for our little group.
The walls have little cubby holes filled with herbs and spices. It is all very adorable.
We're offered wine or homemade iced tea. I'm good and start off with an iced tea. Shortly accompanied by a wine chaser. It turns out to be one of those afternoons.
We start with two types of cheeses and some delicious jamón ibérico, the cured ham made from acorn munching pigs. A very pale yellow egg botifarra and some pickled garlic. And we make our own pa amb tomaquet by rubbing special on-the-vine tomatoes on to crusty bread and drizzling with olive oil and different flavoured sea salts.
By now the wine has started flowing. I'm a little worried it is not yet midday and we're due to be here till 4. I decide to slow down. And then forget to.
After our initial nibbles the real preparation begins. As well as the paella, of which we are making two, one seafood and one chicken: we are having gazpacho, a type of cod paste called brandada de bacalao and a mojito sorbet. All homemade and all requiring a certain degree of dexterity. Mine was already beginning to wane.
I was given the task of hand-grating a mound of tomatoes that were to be used in the gazpacho and paella. I was to cut them in half horizontally (not through the eye of the tomato) and then use a box grater in such a way as to pretty much end up with just the skin left and at the same time avoid adding human skin to the proceedings. It was the latter part that proved tricky. But after another glass of wine I soon got the hang of it.
Everyone was given a task to do whether it be chopping, slicing, grating or squeezing. There was the squid to be prepared, the cod to be flaked and blanched, the gazpacho to be blitzed: it was a hive of enthusiastic activity.
With the gazpacho prepared and chilling and the ingredients for the mojito sorbet turning in the ice cream maker we moved outside for the cooking of the paellas. I made sure my glass was topped up before exiting!
On two gas burners with two large paella pans we stirred and simmered the paellas. I wont go into the exact process here – partly because by this point memory was not my strong point – and thankfully we were sent all the recipes afterwards.
With everything ready the table (door) was prepared and we all sat down. We started with the gazpacho, and then moved on to the subtle and surprisingly unsalty brandada de bacalao which was served on bread with a drizzle of olive oil and a sprig of parsley. This dish hadn't excited me particularly but it was a revelation. It really was divine stuff.
We ate paella and chatted and drunk wine until I could eat no more. And then we finished it all off with the delightfully balanced mojito sorbet. It was a delicious meal and a hugely fun afternoon. As has been clear throughout the wine was flowing which, if you know Keith Floyd, is always the key to a great cooking experience and they really were good wines too. All from Guillermo and Cristina's research trips to local vineyards.
We all left thoroughly happy and replete. And just a little bit tipsy. While Guillermo and Cristina stayed behind to clear and wash up our mess. With homemade ecological cleaning products of course!
If you fancy spending a few hours in the delightful and inspiring company of Guillermo and Cristina I encourage you to check out their website and see what they're up to. You can also find them on Facebook, Twitter and Pinterest.