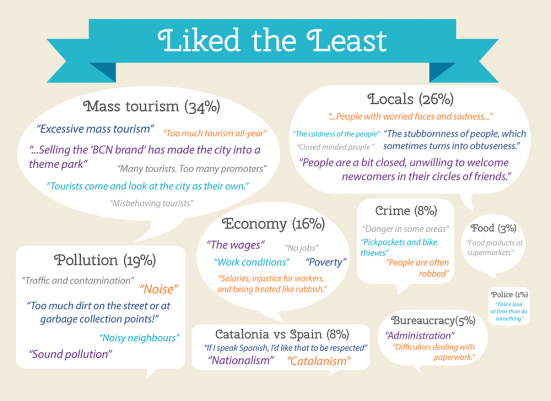 What do you like least about Barcelona? The guys at OK Apartment Barcelona wanted to know. So they surveyed some of the expats in the city (850 people from 26 countries) to find out what they least liked about Barcelona.
Participants responded to the question "What do you least like about the city?" in an open-ended question and in the upcoming analysis we have summarised these answers into 9 negative factors.

The biggest named defect in Barcelona amongst expats was its mass tourism. Over 1 in 3 respondents (34%) that live here affirmed that the city has a level of mass tourism that they dislike. Other relevant negative factors that appeared include local character (26%), pollution (19%), and the economy (16%).
Check out all the results on the infographic below.
You can see the full article including more information about the survey and analysis of the results on the OK Apartment Barcelona website.