UPDATE: Venue Change
Now at La Fira, c/ Provenca, 171
I first wrote about the Giggling Guiri back in March. I'd just been to see Howard Marks and had seen Steve Hughes previous to that. Well shortly it's their last show of the season and if you haven't been to one of their Barcelona comedy events then I urge you to do so.
Tom Stade is in town for their season-ending show and by all accounts he is worth seeing. And apparently the girls like him though I can't see it myself.
"TOM STADE: nominated for Best Headliner in the Chortle Awards 2011, people in the UK have finally woken up to this pearl of Canadian comedy who has come and settled amongst them. A comic who likes to do things a little different has won over the British hearts with his brilliant and unique takes on their culture. We catch him on what was supposed to be the end of a total sellout 40 date UK tour which has now been extended into the Autumn with another 30 dates added to meet public demand. The kind of touring reserved only for the very hottest acts in comedy. Sizzling!!"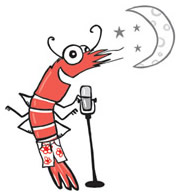 Tom Stade is playing at 131 Fahrenheit which is great for comedy nights. It's very intimate and the acts are pratically amongst the audience. And it has a pretty long bar which is always a plus in my opinion.
English Barcelona comedy events are few and far between, in fact this is the only one I know about, and a good night of chortling definitely comes highly recommended. So get yourselves down there!
Barcelona Comedy: Where, When, Tickets…
Tom Stade is at 131 Fahrenheit (c/ Aribau, 131 – M: Diagonal) on Saturday 4th June at 8.30pm (Doors 8pm). Tickets are €17. You can buy tickets online or from Hibernian Books (c/ Montseny, 17 – M: Fontana – Tel: 932 174 796) or A Taste Of Home (c/ Floridablanca – M: San Antoni – Tel: 933 251 797).