It's been more than 13 years since I landed at the airport of El Prat Barcelona and first started to enjoy Barcelona's perfect days. Originally from Holland, I was living in Amsterdam at that time, when I decided to do an Erasmus in the Catalan capital. Barcelona was becoming more and more popular, but it had not reached the popularity it knows nowadays.
Over the years my perfect days have changed. In the beginning I enjoyed all the different sightseeing places Barcelona has to offer and I loved to discover the hidden and peculiar places of the city. My first summer here I also spent many hours at the beach, but now I hardly go there at all during the busy holiday season. And of course, I have seen a lot of the fantastic nightlife Barcelona has to offer.
There are many ways to spend a perfect day in Barcelona, but a good way to start would be a simple breakfast (coffee, juice and cruasàn in my case) and a newspaper at an easy going café, like for example Federal (Gòtic & Sant Antoni) or Tarannà (Sant Antoni), or in front of Port Vell and the Museu d'Història de Barcelona (Barceloneta) if it's a sunny day in autumn, winter or spring.
Afterwards I would take my bicycle or go for a walk, preferably somewhere not too crowded. In winter I still love to go to the beach, and during spring and summer Montjuïc is a great place for fresh air, green trees and some quietness. A visit for example to the cemetery of Montjuïc is highly recommended. Another favorite would be walking the Carretera de les Aïgues, with its fantastic views over the city, or go to the recently reopened Bunkers del Carmel to get a 360 degree view of Barcelona.
Then back to the city to find a nice place for vermut and food, because a perfect day is only perfect with an extended comida, preferably in the company of friends or family, either locals or people visiting from the Netherlands and other countries. Some of my favorite places are Can Recasens (Rambla del Poblenou, 102) – I can't get enough of embutidos and cheeses, Jai-Ca (c/ Ginebra, 9 & 13), a classic when it comes to tapas and Bar del Pla (c/ Montcada, 2) or Bar Mundial (Plaça Sant Agustí Vell 1).
In case of too much food (and vermut) the best way to spend my afternoon would be by having a siesta, but otherwise I'd go to El Born for a slow afternoon, stroll around the picturesque streets, visit the beautiful El Born Centre Cultural, the Santa Maria del Mar, the nice little boutique shops, have a coffee at El Magnífico (c/ l'Argenteria, 64) (and buy some coffee to bring home), go to Ciutadella Park and maybe have a cocktail somewhere later on before going to dinner.
In the evening El Born is also a great area to find a good restaurant. I'm a big fan of the Japanse-Brazilian restaurant Ikibana (Passeig de Picasso, 32). Or the nice gastrobar Elsa y Fred (c/ Rec Comtal, 11) and the modern bodega Can Cisa (c/ Princesa, 14). Another copa and a bite… the culinary offer is definitely one of the reasons I can't get enough of this city. Then slowly walk homewards, which in my case is not too far away from these places, via the medieval streets of Ciutat Vella, and end my day by having a last drink on my own balcony, overseeing the beautiful interior patio of the block I live in.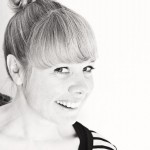 Annebeth has been living in Barcelona since 2002. She works as a communications specialist, a travel guide author and she is co-owner of the website Barcelonatips.nl.
If you'd like to write your BCN Day then please get in touch via the email address at the bottom of the website. I'd love to hear from you. The more we have the better.