It's 10:30. I've just arrived home after a busy day around the city. I take my shoes off, I pour myself a glass of white wine, then I sit down on my couch. It's been a perfect day, actually it's Friday and the icing on the cake would be this cold, fruity and just a little bit alcoholic juice. Ups! My cell is ringing so I dig in my purse to find it. Let's see… I have a cactus… a ring… no sign of my cell (although I can hear the music)… a chocolate bar… a red and white bandana… finally my cell!
After my weekly conversation with my mother, I look at all the stuff I had in my purse. Those are just fantastic memories of my great day rediscovering Barcelona. Why rediscovering? Because this is my hometown where I work as a tour guide showing this exciting city to visitors. What do I do when I'm not working? I search for new charming spots, new delicious restaurants as well as new original shops. As a matter of fact, that's what I have done today.
I've woken up at 7:30am, after a quick shower (quick in my standards, I am a very slow person in the morning) and a coffee I was on my way towards the Poblenou neighbourhood.
Nowadays this is a constantly changing area, which houses the technological district: the 22@. Modern buildings coexist with façades of old factories and the neighbourhood life that tries to keep a traditional and family spirit. As a result, this is the trendiest area in Barcelona where you can still appreciate the different periods just by looking at its buildings.
The Cactus
I've stopped at Espai Joliu, an art gallery/coffee shop/concept store which can be defined with just one word: lovely. Breakfast takes just another dimension with their wonderful (gluten-free) cakes and the love they put into preparing their coffee. Before leaving I've bought a cactus to place by my computer.
Afterwards I rent a bike to cycle along the seaside. This is a service I am testing to propose to my guests: a tour on a classic bike around Poblenou and the waterfront. The sun, the sea, art galleries as well as vermouth are on the menu. I've really had a lot of fun biking along the waterfront with the sun on my face while thinking how this area has changed. I still remember when I was a kid and there were no beaches: the water was dirty, hence there was a sign that read: "if you go into the water, it is under your responsibility".
After biking it was time for lunch! As we say in Spanish I will make an homage to myself, so I've had lunch in Valkiria. This is a co-working space, an example of a successful renovation of an industrial building. Besides, the Bistrot has great food!
The Ring
With my belly full, it was time for shopping! I needed to find something special, an original piece at a reasonable price. The Born area was my next destination. After just a short metro ride I was there just wandering along the narrow and dark streets like Cotoners, Flassaders, Sombrerers… all of them named after professions because El Born was (still is) the area were the Barcelonians could find all kind of artisans. Of course I've found mine: Made with Love. I've bought a ring for my sister who has a quite particular taste. I am sure she'll love it!
The Chocolate Bar
And now, ladies and gentlemen, my favourite drink at my favourite spot: hot chocolate at Xocoxavi, close to the Parc de la Ciutadella and to the Arc de Triomf. They make the best chocolate and cakes in town. This is my hidden gem (I never unveil this address to anybody!). I was ready for a creamy, dark with an aroma of mint chocolate, together with a great company: Agnès, she's also a guide, and crazy about chocolate. In addition, she's really involved in the Aguicat: a guide's association for a sustainable and non-massive tourism. Before leaving I've bought a chocolate bar just for an emergency.
Later on, I decided to have a stroll around Parc de la Ciutadella in order to digest the chocolate and the cake. I love walking there because this is like an oasis in the middle of the city. The real size mammoth always impresses me. At the beginning I thought it had been built when the park got ready for the Olympic games but to my surprise, this sculpture is more than 100 years old. This is the first one of a series to show animals disappeared from the earth sculpted in real size. Actually the mammoth is the first and the last one of this series. A nice family has asked me to take a picture of them with their kids sitting on the trunk (I confess I have the same with my family, taken in 2000).
The Bandana
Talking about family, this evening I've gone with mine to the Castellers de Barcelona. Castell means castle, this is all about building human towers or human castles. It is a Catalan tradition becoming very popular after a report filmed by the BBC and more recently a video by Red Bull. Today is Friday so the group has practiced the castles for the Sunday exhibition. The show was great.
We've taken a table in the bar, just on our left there was a huge window with a view over the Castellers. At 8pm the kids have started to practice the "Pom de dalt" (the upper bouquet). There we were, all the family gathered around a table eating, drinking, chatting and enjoying the show.
To support the group of Castellers, I've bought a bandana for my niece and another one for me. I love its red colour with white spots, it is really colourful.
At 10pm it was time to go home to take my shoes off, to pour a glass of white wine then to sit on my couch. It's been a perfect day and the icing on the cake would be this cold, fruity and just a little bit alcoholic juice.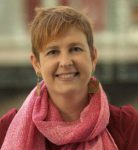 Anna was born in Barcelona and she realised how fantastic the city is… once living abroad! Back home she became a private tour guide to help travellers to experience her hometown. You can find her running Barcelonina&Co or just wandering around the city searching for new hot-spots.
Instagram: instagram.com/anna.barcelonina
Facebook: facebook.com/Barcelonina.Co
If you'd like to write your 'Perfect Day in Barcelona' then please get in touch via the email address at the bottom of this website. I'd love to hear from you. The more we have the better!