"Ice is forming on the tips of my wings
Unheeded warnings I thought I thought of everything
No navigator to guide my way home
Unladened, empty and turned to stone"
— Pink Floyd —
An unusual calmness reigns at El Prat Airport at midnight. A few people staring at you make you understand that you should leave the premises soon so everyone can make it back home to enjoy the Barcelona sunrise, accompanied by a good cup of coffee and xuixos.
I make my way back home as fast as I can. The taxi driver brings me up to date with the latest weekly developments in the City of Counts. This is still Barcelona, part of Spain. Quietly I open my apartment's door as the two ladies are asleep. I check that the plants have enough water to survive next day, and I jump into bed. It's already: Friday I am in love!
Still half asleep at around 7am I am cutting fruits from the Ecobotiga and mixing them with Marina's homemade granola. Tais wakes up and soon we are on our way to her school. Back home again I check the number of customers that we have for the Sant Antoni and El Poble Sec Food Tour. I grab a bike, a cold press juice from Lo&Lo in Gràcia and gravity brings me to the Sant Antoni Market from uptown Barcelona.
Hi this is Andre – your guide today, what's your name and why are you in Barcelona? And a bunch of unknown people, some slightly lost, some curious, some over excited answer the question while greeting each other. This is the beginning of Barcelona Eat Local Food Tour on Fridays just outside the Sant Antoni Market. After an hour while everyone is enjoying a glass of cava I wonder why I am not having one with them as well. The day goes on and funny stories are uncovered, while I learn some interesting facts about the different corners of this world.
Reaching the end of the tour I sit at Jonny Aldana's bar (c/ Aldana, 9) on one of the two stools available on the street, I order a smoothie and whatever fresh dish Charli prepared that morning. We chat and dissect life in the neighborhood. Sometimes we talk about our distant lives in South America and his new healthy dishes that I get to try from time to time. I must admit that I enjoy being a guinea-pig in a bar that I love.
It's almost 4pm, I grab a bike and cycle past the Modernist buildings of Eixample on my way back home – uphill! I usually take a different route, I always find something quirky and funny, either a sight, a scene between people or a shop.
When I pass by DelaCrem (c/ Enric Granados, 15) I am not able to resist their "affogato" and once I am back to our neighborhood where I meet Marina and pick up Tais, she says: Daddy, you might consider eating less ice cream or your belly will just keep growing like a balloon!
With the ladies we usually go to La Tamarita park which is a perfect spot for kids and hook-up with the parents from their school. More updates come, I am still in Barcelona, Spain, though I wonder if next Thursday I will still land in Spain or a new country named Catalonia. Never mind, life in the Mediterranean is just nice, and always will be.
Having spent a day with people, I take some time off for myself, and I get seafood, sometimes oysters, at my favorite fish shop in town: L'Ostreria Clandestina (c/ Balmes, 435). Back home at our kitchen while preparing dinner. The two ladies are around, joking, playing or arguing about Barbie or Strawberry Shortcake adventures. Dinner is usually a big salad bowl, or some Asian spicy dish that we pair with a bottle of a local red wine (usually a Montsant) which was earlier recommended by Xavi from Jovani Vins (c/ Comte Borrell, 30).
One lady has fell asleep on the sofa, and the other one proposes to watch our never-ending Netflix series list, a Scandinavian dark one is a must this time.
The day is over, the weekend is here and whether it's summer or winter, we will be out, enjoying the best of Barcelona, hopefully at a food related event which involves music, tasty food, kids' activities and good vibes.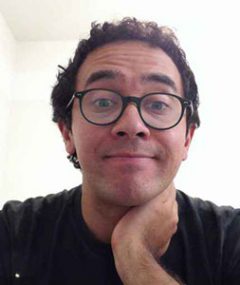 Andre is a Chileno, who shares his professional life between the United Nations and the gastronomy and culture industries where he co-founded Barcelona Eat Local Food Tours with his partner Marina. They have a daughter Tais who left Barcelona at the age of 1 month following him on his adventures around the world. They now live in Barcelona and Andre travels a lot.
If you'd like to write your 'Perfect Day in Barcelona' then please get in touch via the email address at the bottom of this website. I'd love to hear from you. The more we have the better!